Successful women share their secrets
at agri-business forum

Moscow-Pullman Daily News
March, 2005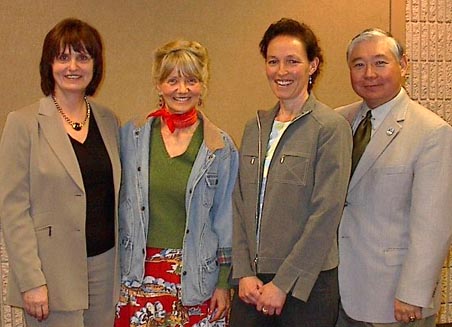 by Megan Doyle
Agriculture experts and people in the agri-business industry are optimistic about the future.
Pat Takasugi, director of the Idaho Department of Agriculture, said improved marketing is helping the agricultural industry, but more is needed.

Economic growth from agriculture, he said, has stayed steady at about 3 percent in Idaho and nationwide. China's growth rate is at about 10 percent.

"We're going to have to turn our ship around to be competitive," he said.

Takasugi was one of four speakers at the 2005 agri-business forum put on Thursday by the University of Idaho Extension and Moscow Chamber of Commerce. The theme of the forum was, "The New Face of Agriculture on the Palouse: Respecting Tradition - Recognizing Change."

MaryJane Butters, owner of MaryJanesFarm; Deena Heath, Moscow Farmers Market director; and Kenna Eaton, manager of the Moscow Food Co-op, also spoke at the forum.
Paul Kimmell, executive director of the Moscow Chamber of Commerce, said the women were invited because of their individual successes.

"We are seeing significant impacts from all three of those ventures," he said.

All three businesses have noticed an increase in business recently, but it hasn't always been that way.

"I've tried everything financially to stay stable," Butters said about MaryJanesFarm, located at the base of Paradise Ridge. The new spin put on her business is the promotion of agri-tourism. MaryJanesFarm offers a bed-and-breakfast on an organic farm where fresh fruit, vegetables and flowers can be picked.

Butters also said new technologies, such as the mustard seed oil she uses to fuel her pink Mercedes, are helping the industry grow and become sustainable.

"I'm pretty excited about the new face of agriculture," Butters said. Eaton said the blending of old traditions with new ideas has proven beneficial for the co-op as well as other agri-businesses. Sales at the co-op grew 28 percent last month.

Heath sang praises for Rural Roots, a nonprofit food and farming organization for owners of small acreage farms in eastern Washington and northern Idaho.

Heath said the number of vendors at Moscow's Farmers Market has leveled off at 60 because that's all the space available for the event. She also said a market assessment done in the summer of 2003 by Rural Roots showed 55 percent of the people who attended the market came specifically to purchase agriculture products.

"Which is obviously what we want to hear," Heath said.

Rural Roots is involved in a "buy fresh, buy local" campaign, which has drawn attention to both the co-op and the farmers market, Heath said.

Though some people in the area are concerned with outsourcing food production, Takasugi said there always will be a demand for local products.

"I've yet to see the person that's outsourced eating," he said.