COOKBOOK CORNER: Another offering for the farmgirl in everyone
Moscow-Pullman Daily News, August 2008
by Vera White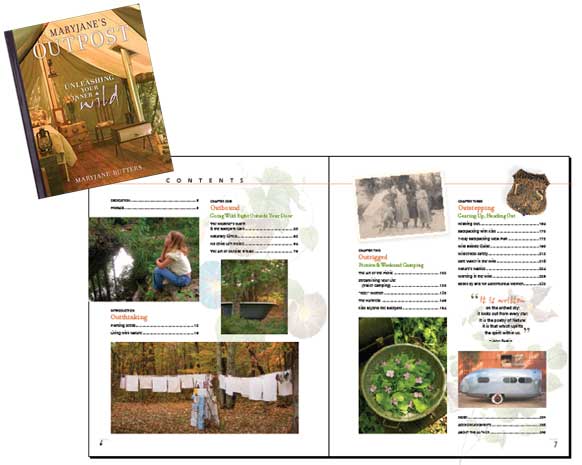 If MaryJane Butters keeps on at her current pace, she's definitely going to leave Martha Stewart in her dust. But unlike homemaking icon Stewart, Butters hasn't done prison time and even better, she is our very own local treasure.
Butters, who lives on a farm south of Moscow, started on her path to fame in 1993 by launching a line of organic food (now sold nationwide) under the MaryJanesFarm label. In 2002, the first issue of the women's magazine/organic food catalog MaryJanesFarm hit the stands and now sells through major chains.
And readers might recall three years ago, I gushed about her new book, "MaryJane's Ideabook, Cookbook, Lifebook — For the Farmgirl in All of Us."
I didn't think it could get any better until last week, when I received a review copy of Butters' latest publication, "MaryJane's Outpost: Unleashing Your Inner Wild." The 240-page hardcover book lives up to the publisher's promise as being a "comprehensive primer" to open-air pursuits for women of all ages.
If "your inner wild" is craving outdoor activities, Butters covers everything from backyard fun to hunting, birding and fishing. If you're a crafts person, Butters' book provides detailed instructions for making Mason jar lanterns, fish-tackle earrings, and more. The author also has included a unique offering of recipes (a couple I'm sharing below), as well as tips for planting your own garden.
As in her previous book, Butters has included many of her own color photographs in "MaryJane's Outpost." She also has sprinkled the pages with inspirational stories of other trail-blazing women.
Many of us in the area have had the privilege of visiting Butters' farm and participating in many of the activities she has offered through the years. Whether you know her personally or not, every woman who reads "MaryJane's Outpost" will benefit from the experience. Your "inner wild" will be glad you did!