For women of the great outdoors
Jersey City, NJ/The Star-Ledger, July 03, 2008
by Kimberly L. Jackson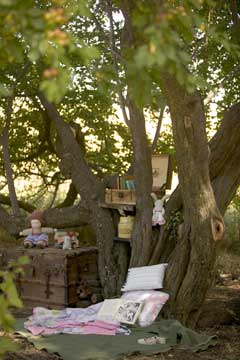 MaryJane Butters isn't your typical lifestyle goddess.
When she tells you how to create a relaxing outdoor room, it'll involve tugging your bedding outdoors, gazing up at the stars and falling asleep right there. For Butters, the concept of outdoor living means pitching a tent in your backyard, rigging up a swing with rope and a cedar board, or creating a story tree to sit under for regular reading sessions with the kids.
She makes willow furniture with branches cut from trees that get to keep their lives, and teaches kids that farming -- and hunting -- is for girls.
Imagine if Martha Stewart turned survivalist and wrote a book, and you'd have "MaryJane's Outpost: Unleashing Your Inner Wild" (Clarkson Potter, $30). This is a book filled with gorgeous photos that romanticize camping, farming and away-from-it-all experiences in a way that's high on doilies and dainties and low on sweat-of-the-brow realities.
Butters turns old-fashioned ironing boards into apron-skirted outdoor sideboards for buffet serving, the tents have flower-filled pitchers, and her version of an "outpost" bed has canopies -- with instructions on how to build your own. Other projects fill cowboy boots with succulent plants and turn glass jars into hanging candle lanterns trimmed with chandelier crystals. And how about making earrings from fishing lures to help you hook a mate?
There are food shots that would make you actually consider eating the scallion-look-alikes that are shoots of cattails, a common weed. Butters offers the daring outdoorswoman a guide to identify edible wild plants and includes recipes that use weeds as salad greens or to mix into quiche, pesto and pasta dishes. She turns dandelions into jelly and wine. These are certainly handy tips if you're one for "glamping" (glamour camping).
Campers will benefit from tips for wilderness safety, finding water sources and making trail mixes and the rub-on insect repellant, "bug-off bars." There also are a number of more accessible recipes, including three tasty-looking salads made of grilled potatoes.
Butters is author of three books, founder of MaryJane's Farm magazine and the websites maryjanesfarm.org and maryjanesoutpost.org. She's the product of an unconventional 1950s upbringing. Her Utah family of seven raised their own food, made their own clothing and went nomadic on weekends, setting up camp in the wild to fish and hunt for their meat. Butters worked as a wilderness ranger, a fence builder, a carpenter and a milkmaid before setting up her own Idaho farm raising grain, produce and livestock. Before marrying her neighbor 15 years ago, she was the single mother of two.
She writes books, she says, because she needs a place to share her thoughts. The best thing about this one is that it encourages adventure-seeking in your own way and recalls simple childhood pleasures such as shadow puppet shows and bug-watching.
The book has 10 recipes for flavored popcorn, including cheesy, cinnamon, chocolate and PB&J. Here's a sample:
Cracker Jill
1/2 cup popcorn kernels, freshly hot-air popped
3/4 cup butter
3/4 cup sugar
3 Tablespoons coffee
2 Tablespoons maple syrup
1/4 teaspoon salt
1 cup peanuts
Bring butter, sugar, coffee and syrup to a boil in a medium saucepan. Reduce heat and simmer for five minutes. Mix salt and peanuts with popcorn. Coat everything with butter mixture and layer on a cookie sheet to let dry before serving.