Book Review: MaryJane's Outpost
Washington Times, Washington DC, Sunday, July 20, 2008
by Gene Mueller, Outdoors Columnist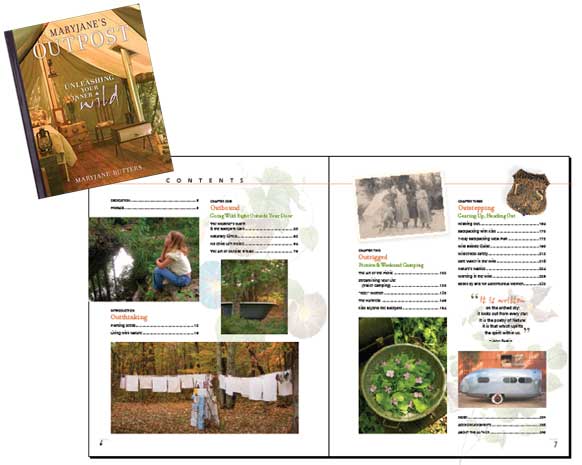 I can't recall when I last had such reading fun as with "MaryJane's Outpost - Unleashing Your Inner Wild," by MaryJane Butters ($30, Clarkson Potter Publishers). Butters is the real deal. This is not some inventive outdoors-minded female who thinks she can get women to buy a book tailored strictly for what we men sometimes refer to as the weaker sex. No, Butters was raised on a farm in Utah, has worked as a carpenter and a wilderness ranger for the U.S. Forest Service, owns a remote homestead in the Paradise Range, south of Moscow, Idaho, and has launched a nationwide line of organic foods (maryjanesfarm.org).

Hers is a wonderful kaleidoscope of life in the outdoors and making a living with natural things exciting and rewarding. This lady who raises bees, cows and chickens illustrates and writes about building your own willow table, a canopy for an outdoor bed, an outpost bathtub, how to make liquid soap from castaway pieces of hand soap by adding water and putting the whole deal into a blender.

Butters talks about flowers, camping, fishing, hunting, creating whistles from blades of grass, collecting natural foods and she provides recipes from shortcake made with wild berries to rabbit pot pies.

One thing puzzled me, however. It was a long shopping list of things needed when living in wild country. But where in the world do you find a grain called quinoa, champagne yeast, asiago cheese or cheese made with Spanish sheep's milk?