Farm fantasy:
Area families get their fill of fresh fruits and vegetables as part of MaryJanesFarm U-Pick Country Club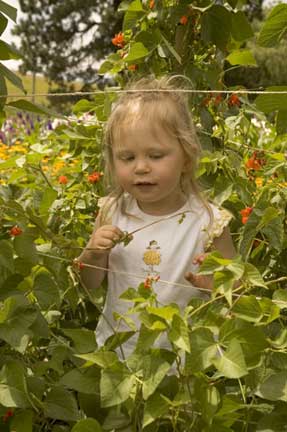 Moscow-Pullman Daily News, September 11, 2007
By Tara Roberts, Daily News staff writer
Isabella Taylor clutched a bell pepper in her hands, grinned and took a huge bite.
"She'll pick one of these peppers and eat it like it's an apple," said her mother, Rebekka Boysen-Taylor. "There's no food that's not a possibility for her."
Isabella, 4, devoured organic strawberries, picked a giant zucchini and dug up potatoes during a recent Saturday morning trip to MaryJanesFarm with her mom, her father, Erik Taylor, and her 10-month-old brother, Jackson Taylor. The Boysen-Taylor family belongs to the farm's U-Pick Country Club, where they have full access to five acres of fruits, vegetables and herbs anytime they want.
Lucas Rae, the farm's project development director, said farm founder MaryJane Butters came up with the idea of the Country Club to give people a chance to live out their "farm fantasy."
"For MaryJane, she wanted to provide people with the opportunity to learn more about where their food comes from," Rae said. "I think people, parents, like to teach their kids to eat right. Nobody wants to ask their kids, 'Where do your potatoes come from?' and they say, 'McDonalds.' "
Country Club members pay $100 to join for the whole summer, and then pay for the produce they pick each trip. A basket of vegetables is $2, and herbs, flowers and fruits are slightly more expensive. To make it easy for families to come on their own time, club members write their costs in a receipt book on an honor system and are billed monthly, Rae said.
Boysen-Taylor said showing the children where their food comes from is the central reason her family comes to MaryJanes Farm. She begins bringing them in May so they get to see planting and the earliest stages for the vegetables.
"By the end of the season, (Isabella) knows how a pumpkin happens," she said.
Taylor said he and Boysen-Taylor really started thinking about food sources and organics when they had children.
"They come to you all pristine and you start thinking about how am I going to screw them up, or how am I not going to screw them up?" he said.
MaryJanes Farm has made child-friendly changes since the inception of the Country Club two years ago, Boysen-Taylor said. Rae said most of the 20 families who are Country Club members have children.
Child-sized tools are on hand so children can help their parents harvest. There is a large sandbox for children to enjoy, as well as a picnic area called the Plum Pit that features hammocks, sinks to wash produce and comfortable places to relax.
"It's a big playground for them," Taylor said.
The Boysen-Taylors try to pick and save enough fruits and vegetables to last them past the end of farm season.
Boysen-Taylor makes jam and plans to can pasta sauce made from the farm's tomatoes and basil. She freezes bags of green beans for Jackson to eat.
Taylor, a firefighter in Pullman, has gotten his coworkers hooked on the farm's garlic.
"The garlic that they grow out here is unbelievable," Taylor said. "The saddest part of our winters is when we come to that last clove of that garlic and it's over."
All the fresh produce doesn't break the bank, either, Boysen-Taylor said. Her family left the farm with bags of zucchini, zinnias, potatoes and more for $18.
"It's almost like nothing," Boysen-Taylor said. "We get a lot of food for the price."
The family gardens at home, Taylor said, but the Country Club allows them access to a full-scale farm without the full-time work of farming.
"We do have a farm and we don't have to do anything," Boysen-Taylor said. "We show up, it's beautiful and there's food."
Rae said Butters would love to see more farmers catch on to the idea of sharing their farms with you-pick customers, and Boysen-Taylor agreed.
"I think that's the only way to save farms, is to have people come to them," she said.
The Country Club is full for this summer, but Rae said it may be expanded next year if there is enough interest. For information, call (208) 882-6819 or e-mail lucas@maryjanesfarm.org.