Freeze-Dried Camp Food Goes Gourmet
By: Matthew Kronsberg, for the Wall Street Journal, June 26, 2015
People go backcountry camping for all kinds of reasons: tranquility, solitude, adventure, views. Pretty much nobody, however, goes for the food.
That's because, until recently, the freeze-dried meals-in-a-pouch (just add hot water and serve) popular among backpackers have been primarily engineered with two factors in mind: weight and shelf life. It's not surprising that taste and texture would take a back seat, said Jennifer Scism, a chef, former partner at New York City's Annisa and an avid backpacker: "The truth is, when you've done 15 or 20 miles, eating cardboard is going to be good."
Still, Ms. Scism felt there was no reason a meal couldn't be lightweight, shelf-stable and delicious. When she started cooking and dehydrating her own meals before heading out on long expeditions, she skipped the old camp standbys, like beef stroganoff and mac 'n cheese, and instead prepared the dishes that she would actually want to eat at home. "My palate is really adventurous," she said. "My idea of a comfort food is having a roti canai in Malaysia or an Indian curry." Her preparations evolved into Good To-Go, a line of freeze-dried foods that launched in 2014 and quickly became a hit among fellow hikers whose sense of adventure extended beyond the trail to the plate.
Other makers of lightweight nourishment have also expanded their menus to satisfy the broader tastes of worldly hikers. Backpacker's Pantry, for example, a Colorado-based company that got its start in 1951 supplying the Girl Scouts, offers what might be the most globe-spanning assortment of freeze-dried meals on the market: chicken vindaloo, Vietnamese pho, Jamaican jerk rice with chicken, among other choices. It's possible now, it seems, to carry the whole of the United Nations commissary on your back.
Now that food manufacturers have mastered the Holy Grail of lightness and shelf stability (Mountain House, a leading brand of freeze-dried meals, just introduced a 12-year guarantee for its pouched provisions), the big question remains one of taste. "If you can eat this and like it in the comfort of your home," said Ms. Scism, "you'll really like it in the woods. That's the test." Below, a few packable meals-for-two that we believe meet that mark.
MaryJanesFarm Sicilian Polenta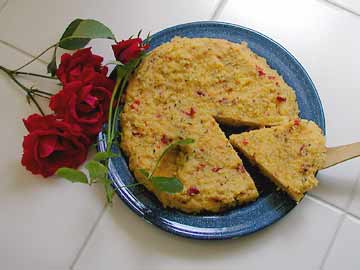 The ingredient list of this Idaho-made favorite is comfortingly familiar: polenta and Parmesan, flecks of red peppers and tomatoes, garlic and sea salt. The act of stirring it all in a pot until it comes together—even if that stirring only takes five minutes—can bring a sense of homey ritual to the campsite, not to mention a bit of civility to dinner. The finished product, whether spooned warm into bowls, or left to set and cut into wedges, is hearty and satisfying. $5.75 www.MaryJanesFarm.org