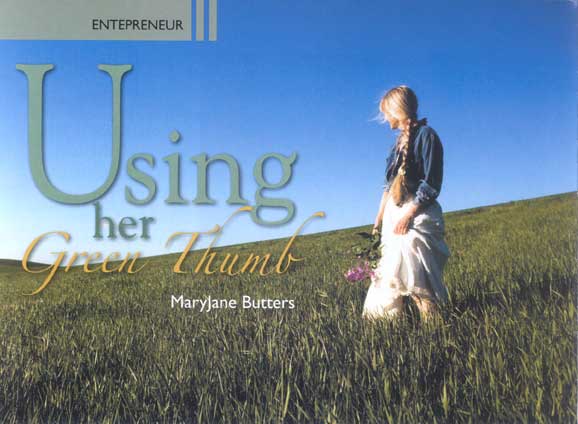 IQ Idaho, September 2005
by Alyson Outen
MaryJane Butters always wanted to live on a farm and grow her own food; a simple dream she never imagined would lead to fame and fortune.
Fifty years ago, what MaryJane is doing today, would have been considered quite normal. She runs a small organic farm outside Moscow, Idaho. Wearing a hand-sewn apron and her signature long braid, MaryJane gathers fresh eggs for breakfast and cooks in an outdoor kitchen…honestly, she really does…and she wants others to, as well.
"We have gotten away from hearth and home and wholesome foods and so I'm trying to participate in bringing back good food," said Butters.
Her quest began 20 years ago, when this single mother of two bought a five-acre, run down farm. The fact that the turn of the century farmhouse lacked basic amenities was not a deterrent.
"I put both my kids through cloth diapers using a wringer-washer and an outhouse," said MaryJane. "That's what was here and I just couldn't afford indoor plumbing. I was struggling to make a living as a single mom."
That decorated and, I dare say, charming outhouse is still the main mode of commode at MaryJane's Farm. You'll find it right by the clothes line – MaryJane's low-tech dryer.
This back to basics lifestyle is turning MaryJane into a bit of phenomenon, capturing the attention of the national media: PBS, NPR, House and Garden, Country Living,The New Yorker …even Orpah Winfrey's people are calling. On the day of my farm visit, Country Home had flown in a crew of photographers, stylists and editors to capture the essence of MaryJane.
"Everything she does kind of embodies everything we are at Country Home," said Lisa Holderness, Country Home contributor. "She's an independent female farmer, following her dreams and doing it in a way that it helps the earth."
The "earth friendly" facet dates back a long way with MaryJane. In the early 1970s, she was one of the first female wilderness rangers for the National Forest Service. As a trained carpenter, she went deep into the Idaho wilderness to help build bridges by hand. A remote existence she still craves today.
"I've never gotten over my need for quiet, absolute quiet," said MaryJane.
She finds some of that solitude in her acres of organic gardens. But, ask for a tour and you better be ready to pick up the pace. MaryJane's version of tiptoeing through the tulips is more like power walk through the pansies.
"Look at these beautiful strawberries," Butters says as she pops one in her mouth. "Look at that, that is the perfect raspberry. And these are old fashioned zinnias, which I love," said Butters.
"These [elderberries] make the most amazing pancake syrup and wine, look at how many we have."
Despite MaryJane's passion for produce, it was actually a neighbor's crop that launched her culinary career. A fellow farmer was struggling to sell his organic garbanzo beans; so kind-hearted MaryJane bought a 50-pound bag and began experimenting.
"I looked at what was for sale in the stores and I thought, hmmm, falafel, ground up garbanzo beans," said MaryJane. "I played with the herbs and spices it would need and started selling it locally to restaurants and our co-op. I sold, maybe, five pounds a month and now I sell hundreds of pounds a month."
During the experimental phase, her kids dubbed it "Mom's awful falafel", a recipe that ultimately led to an award-winning creation and the genesis of MaryJane's Organic Foods.
"I decided to put a face to food and to brand myself and, that's when things started cooking."
The food line is sold across the nation at REI and other stores, but also through the farm's booming on-line site, a surprisingly high-tech venture for such a down-home girl.
In 2003, MaryJane launched a self-titled magazine, shooting her own photos and writing about the simple things in life: sewing, cooking, gardening; reaching out to rural America in particular. She optimistically printed 5,000 copies of her first issue and almost immediately sold out.
"After the September 11 [terrorist attacks] there was just this shift, people wanted to stay home, embrace their home life more. Our culture just always looks for a spokesperson and that happens to be me, right now, for those things," she said.
MaryJane's (ad-free) magazine made its way to a New York publisher. Last year, Random House offered this Idaho farm girl a $1.3 million book deal, putting even more green in that green thumb of hers.
"It's the farmer in me. Because farmers, in order to survive, often you have in your tool box something called diversification and I have done value added this and value added that and if it means, writing and communication, and telling my story that's just another crop I'm growing. I call it rural rootedness."
During May and June of this year she toured the nation, signing copies of her elegant 400-page "Ideabook, Cookbook, Lifebook".
"My message is just that 'farmgirl' is a condition of the heart. I think it's a celebration of honoring whatever it is a woman wants to do, whatever."
"We started [our book tour] in New York City and we went to Vermont, Indiana, Ohio. We went to farms in between the cities, which was just wonderful. I could just sit on lawns and regroup," said this self-proclaimed homebody. She says e verywhere she toured, big city or small town, people stood in line to get her autograph and to tell her their stories. She considers that a more valuable validation that any amount of book sales.
She's already writing supplemental workbooks to go along with her first release and she's mulling over ideas for her own television show. All that marketing aside, MaryJane says the prospect of fame and fortune is inconsequential. She says it took her 20 years to garner this kind of attention and success and she knows it can disappear in a flash. But the farmgirl, she says, will be there forever.
"I've reinvented myself many times trying to figure out how to make a living doing what I wanted to do and that's everybody's challenge," said MaryJane. "I'm liking my destiny these days, it's good."