MaryJane fulfills sweet dream
Entrepreneur teams with family on Moscow store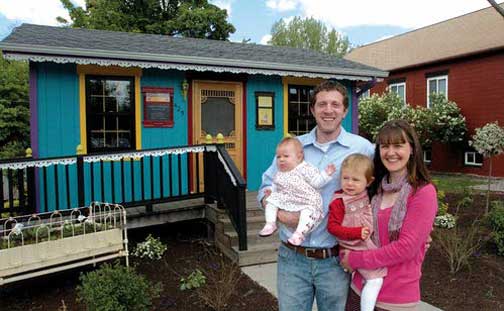 Lewiston Tribune
By Elaine Williams of the Tribune
May 24, 2009

MOSCOW - The day MaryJane Butters created the designs for her line of quilts and comforters, she laid heirloom linens in the yard outside her farmhouse on Paradise Ridge near Moscow to serve as the inspiration for the products.
A group of New York City executives watched as birds pooped on the sheets and pillow cases. The final results of that day's collaboration are among the items sold at MaryJane's Sweet Dreams, a recently opened store in Moscow.
The bed covers with floral designs are among the only items in the 320-square-foot store not made from organic materials or purchased from local producers. Were they manufactured with organic cloth, they would be so expensive that most people couldn't afford them, said Megan Rae, Butters' daughter, who runs the store with her husband, Lucas Rae.
One corner of the store is filled with Butters' organic sheets and towels, which Megan Rae said are priced to be competitive with discount stores. The sheets are sold in sets for twin-, full-, queen- and king-sized beds. The price for a queen-size set with two pillow cases, a fitted bottom sheet and a top sheet is $52. They come in seven colors, such as rose, light blue and honey. Bath towels come in seven hues, such as lilac and sage. They cost $8 for bath towels, $6 for hand towels and $4 for wash cloths. The store also stocks a line of organic chocolates, plus gift items such as jewelry and tin wall hangings made by regional artisans, along with the books MaryJane Butters has written.
The building, which used to be a beauty salon, is situated in one of the busiest areas of Moscow. It's at 425 S. Jackson St., the southbound leg of U.S. Highway 95 in downtown, across the road from the parking lot where Moscow's weekly farmers market is in the summer. Butters and the Raes had it painted and added a garden to make its appearance stand out even more. The exterior is blue-green with purple and yellow accents and some white trim that looks like lace. This is the second retail outlet for MaryJane Butters. The first opened in September in a shopping complex near the Coeur d'Alene Resort.
The Moscow store has six parking spaces in an adjacent lot. It is open from noon to 6 p.m. seven days a week The Saturday hours are extended from May through October when it opens early at 8 a.m.