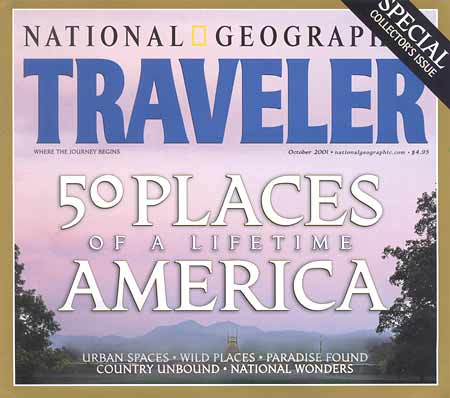 "TRAVELER is a magazine that revels in the world of travel. But with this issue we go all red-white-and-blue — with 50 American places you should see before you hang up your traveling shoes ...
"How did we arrive at our picks for this U.S.-focused edition? As with the first "50 Places," our choices are based on nominations received from National Geographic Society Staff and contributors. We culled down hundreds of entries, surveyed writers and travel authorities, consulted our advisory board, then made the final, toughest cut ourselves."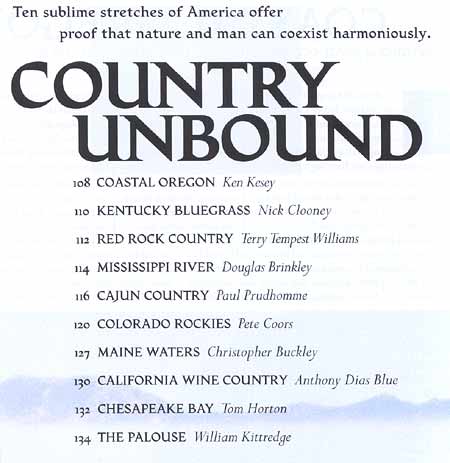 The Palouse
Rolling hills of amber waves and a good measure of culture. By William Kittredge
National Geographic Traveler, October 2001
AMERICA, IN THOMAS JEFFERSON'S DREAM, was a pastoral homeland where yeoman farmers and their families labored over their crops and lived clear-hearted communal lives. It's an ideal that may sound numbing to urban citizens. Or not. Today, in America's Palouse country, many people have life two ways, both pastoral and at least semi-sophisticated. Not a bad deal.
The famous wheat-field hills of the Palouse, rich and stoneless, built of silty soil wind-sculpted into dunes over eons, are silvery on snowy February mornings, vivid green in late spring, and golden by late summer, after harvest. Because of their effect on your soul, you could call the roll of the hills sublime, which my dictionary defines as "noble, and of spiritual worth."
At sundown from the top of Steptoe Butte, an isolated peak among the hills, the horizon-to-horizon panorama of shadow and light seems almost oceanic. It's a sight that leads to thoughts about the value of being alive right at the moment.
But the sublime also reeks of limitless wildness. Humans can be overwhelmed. The soul not only hums but quavers.
Enough with the pastoral grandeur. What about secrets?
Drive the narrow winding highways. Park and climb into the steep hills, over the ridges.
Get lost, your automobile out of sight. Keep silent and listen to the birds and rustling of the breeze. Get close. Sink into your response to what is left of "nature."
| | |
| --- | --- |
| | According to some sources, it was the wealth of green grassland that prompted early French fur traders to call the area pelouse (lawn). The combination of rich soil and stable climate makes this part of the world ideal for growing wheat, which is just what MaryJane Butters and Nick Ogle do on their farm. |
In the poem "The Far Field," Theodore Roethke wrote, "At the field's end, in the corner missed by the mower … One learned of the eternal."
The Palouse is its own secret — a knowable kingdom where we confront both infinites and intimacies if we take the time. It's a quiet pleasure to loiter on the streets of the tiny farm towns, chatting up locals. Such lingering is a doorway into the reimaging of self that travel is about.
But, if things slow too palpably, check out the action in the university towns, Moscow and Pullman. If in need of irony and rowdiness, try cleansing your being in a student tavern. Or there may be a trio playing Mozart. Check out the local writing scene. Robert Wrigley and Mary Clearman Blew, major voices in the modern West, teach at Moscow's University of Idaho. Robert Helm, a painter with work in both the Metropolitan and Whitney museums, makes his magic on a farm south of Pullman. Visit Bob Greene at Bookpeople, his store in Moscow. Bob might be willing to talk about the advantages of having life more than one way.
National Geographic touts area
Moscow-Pullman Daily News, October 2001
An overview of the Palouse can be found on pages 134-5 of the October issue of National Geographic Traveler. The article is part of the magazine's look at "50 places of a Lifetime in America."
"The Palouse is its own secret — a knowable kingdom where we confront both infinities and intimacies if we take the time," wrote William Kittredge.
Damn — our secret is out once again.
The article includes a picture of Mary Butters and Nick Ogle, owners of Paradise Farm Organics in rural Moscow.
In addition to mentioning the rolling hills and two univerisities, Kittredge says of visiting Bob Greene, owner of BookPeople of Moscow, "Bob might be willing to talk about the advantages of having life more than one way."
Well said.