Rustic Glamour
from Northwest Travel, September/October 2005
by Carol Spurling, www.plumassignment.net, writer@plumassignment.net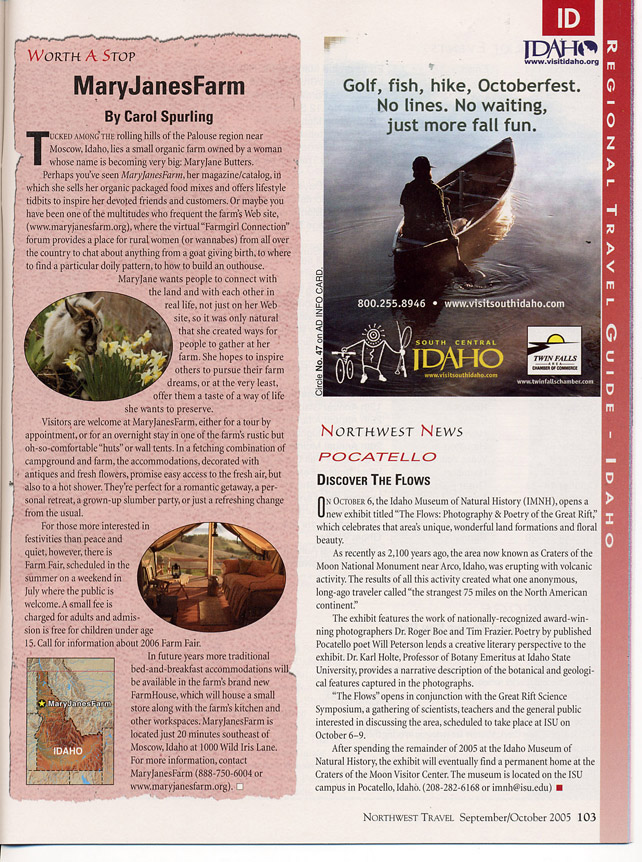 Tucked among the rolling hills of the Palouse region near Moscow, Idaho, lies a small organic farm owned by a woman whose name is becoming very big: MaryJane Butters.
Perhaps you've seen MaryJanesFarm, her magazine/catalog, in which she sells her organic packaged food mixes and offers lifestyle tidbits to inspire her devoted friends and customers. Or maybe you have been one of the multitudes who frequent the farm's Web site, where the virtual "Farmgirl Connection" forum provides a place for rural women (or wannabes) from all over the country to chat about anything from a goat giving birth, to where to find a particular doily pattern, to how to build an outhouse.
MaryJane wants people to connect with the land and with each other in real life, not just on her Web site, so it was only natural that she created ways for people to gather at her farm. She hopes to inspire others to pursue their farm dreams, or at the very least, offer them a taste of a way of life she wants to preserve.
Visitors are welcome at MaryJanesFarm, either for a tour by appointment, or for an overnight stay in one of the farm's rustic but oh-so-comfortable "huts" or wall tents. In a fetching combination of campground and farm, the accommodations, decorated with antiques and fresh flowers, promise easy access to the fresh air, but also to a hot shower. They're perfect for a romantic getaway, a personal retreat, a grown-up slumber party, or just a refreshing change from the usual.
For those more interested in festivities than peace and quiet, however, there is Farm Fair, scheduled in the summer on a weekend in July when the public is welcome. A small fee is charged for adults and admission is free for children under age 15. Call for information about 2006 Farm Fair.
In future years more traditional bed-and-breakfast accommodations will be available in the farm's brand new FarmHouse, which will house a small store along with the farm's kitchen and other workspaces. MaryJanesFarm is located just 20 minutes southeast of Moscow, Idaho. For more information, contact MaryJanesFarm (888-750-6004 or www.maryjanesfarm.org).