Just in time for 2012 New Year's Resolutions, Pioneer of "Glamping" Helps Americans Unplug and Stay Healthy
What do camping, glamour, New Year's resolutions and ditching your Smartphone have in common? They are all part of what many Americans say they desperately crave – quality, stress-free time away from technology (with a little luxury sprinkled into the mix). Or, simply the ability to "unplug."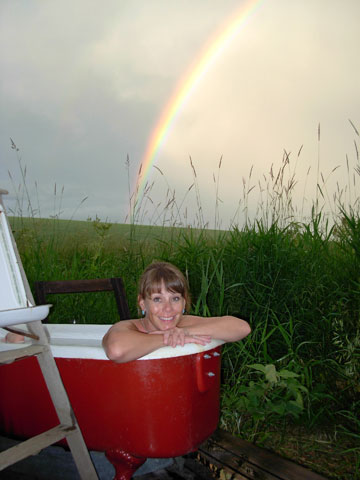 MaryJane Butters not only has a solution, but is leading the weary on the well-appointed path of unplugging through "glamping," a concept she coined many years ago that combines camping and glamour into one outdoor experience. In fact, MaryJanesFarm, located in the heart of rural Idaho, was recently named one of the top five destinations in America to unplug.
"Unplugging is the new 'decompressing'," said Butters. "And, due to the economy, Americans are turning to camping as an affordable vacation option. What they might not realize is they don't need to spend a lot of money to avoid the traditional 'roughing it' method of outdoor camping."
Butters, a former wilderness ranger turned organic farmer, lived in wall tent year-round in the Idaho outback in the 1970s while working for the Forest Service. She now has wall tents tucked in a plum and walnut orchard surrounding her farm, offering an organic safari of sorts to those who want to "unplug." At her bed and breakfast, guests bathe and dine outdoors and sleep in tents gussied up with antique iron beds, billowy down comforters and woodstoves.
"Glamping is easy," added Butters. "With a little extra prep time and a few creative frills, you can transform anything from a simple backyard outing to a whole week in the mountains into an adventure in style, comfort and rest."
Being "plugged in" is definitely taking its toll on the health of tech-zapped Americans. According to a recent National Sleep Foundation (NSF) poll, in the hour prior to going to bed, 95 percent of us stare at a screen (television, computer, video game, cell phone) at least five nights a week. Forty-three percent of Americans say they're not getting enough sleep on weeknights, and 60 percent report sleeping problems almost every night. The U.S. Centers for Disease Control and Prevention (CDC) warns that more than one third of us are getting less than seven hours sleep at night, which boosts the risks of obesity, heart disease and diabetes.
So, how do you unplug? Below are Butters' top five suggestions for creating a relaxing glamping experience:
1) Bag the Bag – Leave the sleeping bag at home and top an ordinary air mattress with sheets, down comforters, quilts and pillows. For a real treat, bring an outdoor cot or hammock.
2) Set the Mood – Think candles, lanterns and fragrant oil lamps, in addition to dining by the light of a campfire or full moon.
3) Think Simple – Prepare foil-packed campfire dinners and quick snacks such as wine, cheese and bread. And… spend a luxurious hour sipping your morning java or chai.
4) Find the fantastic – Pack props, rugs, vases, antique enamelware. Forget practical; you're building your fantasy "fort."
5) Turn Pages – Unplug the e-reader and grab an old-fashioned book; go to your library. Pack books without modern-day violence – think Life of Pi or re-read The Hobbit or Anne of Green Gables.
With the New Year fast approaching, add glamping to your 2012 resolutions. Whether taking a trip to Butters' farm or setting up a glamping site in the backyard, 2012 could be the year to recharge atop a fantasy feather bed or reboot in an outdoor claw-foot bathtub … under the stars.