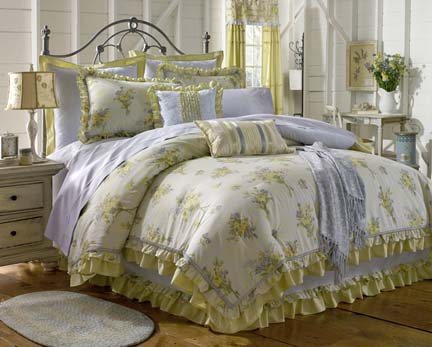 Homestead Launches MaryJanesFarm Home This Spring
PR Newswire
Tuesday, October 31, 2006

NEW YORK -- Homestead announces today that they are gearing up for the national launch of their new line of bedding and decorative accessories, MaryJanesFarm Home, designed by MaryJane Butters. The program, exclusive to Belk, a family-owned Southern chain of department stores, is set to commence February 2007 and will be available in over 200 stores and on Belk.com and www.maryjanesfarm.org.
MaryJane Butters is the creator of the lifestyle brand MaryJanesFarm, celebrating her passion for farmgirl living and the beauty she discovers everyday on her organic farm in Moscow, Idaho. MaryJane Butters is known for her books and magazines, that give amazing tips and ideas on anything from needlepoint to organic gardening, as well as her organic food products. But she is most affectionately recognized for her website, www.maryjanesfarm.org, an active community of women from all walks of life. This new relationship with Homestead will allow her to expose her farmgirl style in home decor.
"All the elements that make MaryJane who she is are beautifully translated into the MaryJanesFarm Home collection," said David Greenstein, CEO of Homestead. "Her ardor for spreading the message of maintaining our environment is invigorating. The timing of her launch could not be more perfect as there is a continuous growing demand for eco-friendly products. However, it is our endeavor to turn what many view as a trend into a way of life. And this collection allows consumers to start with the home and do it with style."
The MaryJanesFarm Home collection is a spirited tribute to all that she loves and everything that consumers will adore. A color palette that captures the essence of a breathtaking rustic backdrop features bright sunshine-favored yellows, an assortment of rich greens, gentle blues and garden-inspired reds. Her signature drawnwork comes alive with whimsical sophistication. Intricate subtleties like twill tape and appliqués offer dimension while delicate double ruffles divinely complicate the simplicity of her collection. Classics like tufted chenille are reborn with gentle modernity as comforters and throw pillows. Knitted throws that offer vibrancy and comfort are a great addition to each bed. The entire collection is a wonderful mix of patterns and textures that when pieced together create a harmonious balance of rustic femininity.
MaryJane's passion for preserving the environment fuels her to create natural products that support her philosophy. The MaryJanesFarm Home collection includes organic sheets in addition to her fashion bedding. The warmth found in these rich earth tones is inviting, with a wide array of hues for consumers to choose from. And although they are natural, there is nothing unnatural about the texture which is gentle and soft to the touch. Packaged in a charming recycled paper box that is reusable and engaging.
"My partnership with Homestead allows my dreams to continue to flourish without impairing my beliefs and creativity," said MaryJane. "Homestead has a remarkable understanding of this industry but they also understand my values, and most importantly they support them enabling the brand to remain true to its original concept while becoming more accessible to today's consumer and allowing them to enjoy and celebrate easy modern farmgirl living with great American style."
Homestead is the premier designer and manufacturer of the most powerful and prestigious design brands in home fashions today. The company creates a wide range of home products for both major designers and private label brands.
Homestead has created such successful home brands as Collier Campbell for Kohl's; Modern Comfort by Angela Adams for Bed Bath & Beyond; and Toscana by Nancy Koltes for Federated. For more information please visit their website at www.homesteadbrands.com or contact MaryJanesFarm at 208-882-6819.