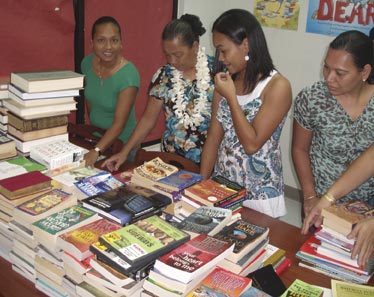 Magazine readers fill library shelves
Farmgirls help reopen community library destroyed by typhoon
By Judy Sobeloff, for the Moscow-Pullman Daily News, December 26, 2011
Books are still arriving for the new 10,000-book library on the island of Rota, just north of Guam and more than a thousand miles east of the Philippines.
These last few books come, as did the 10,000, not directly from New York publishers or Amazon.com, but from the readers of MaryJanesFarm magazine, published by Moscow resident MaryJane Butters, its founder.
Until the library's reopening last summer, the people of Rota had been without a community library since December 1997 when Super Typhoon Paka hit the Pacific island, devastating the island's newly completed library, and damaging its books so badly they had to be burned.
Last year Aimee Steiner, a literacy advocate working on Rota, was inspired to reach out for help to Moscow, 6,000 miles away.
Steiner and the native Chamorro people were stunned at the enthusiasm with which readers of the magazine and members of the online network known as "MaryJane's Farmgirl Sisterhood" responded.
Rota, a small U.S. Commonwealth island of 3,000 people, described by Steiner as "a dot on the planet sitting atop the deepest ocean trench in the world," the Mariana Trench, has no bookstores or newsstands.
Steiner, who arrived on Rota in August 2006, said she had tried a number of ways to encourage the community to read before landing on the idea of reopening the library. She had sent letters to dozens of international corporations asking for help. Only one, Pepsi Guam Bottling, helped by collecting 3,000 books from Guam for use at the island's junior high.
One morning, halfway through her usual eight-mile pre-dawn walk, Steiner says she stood overlooking the ocean, and "prayed, 'God, bring me a bookstore.' MaryJane came to mind immediately during that prayer."
In a letter to Butters, published in the "Readers Write" column of the August-September 2010 issue of MaryJanesFarm magazine, Steiner described a plan to raise money for the library by selling magnets made from vintage matchbooks, and said the islanders also welcomed donations of used books.
When farmgirls began shipping massive quantities of books, Steiner says she and the islanders were both overwhelmed and excited. People "quickly came to me offering space, time, and energy so we could immediately distribute the books," Steiner says.
Last summer, with the help of people from "all parts of the island," they were able to open their library for the very first time.
This isn't the first time the farmgirls have done something remarkable like that, says Butters.
"Whenever a sister is sick, or a family member is unemployed, they respond with everything from card showers to a flood of gifts," she said.
"Five hundred books wouldn't have surprised me," she says. "Five thousand would have floored me. Ten thousand books blew me away."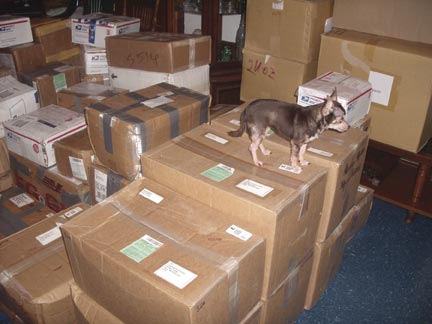 Butters describes her network (www.farmgirlsisterhood.org) as a sort of adult Girl Scouts, "a combination of life-support system and organized lesson plans." Farmgirls meet online and in person in chapters across the country. Butters says that "especially in this economy, it's been great."
Rebekka Boysen-Taylor, a member of the Moscow Farmgirls chapter, says of Butters, "She's an organic foods pioneer, a bed and breakfast owner, designer, and shopkeeper, but none of that even gets at the heart of it. She's a woman who sees all of this potential in every single day and all of the people around her, and she just wants to foster that."
For her part, Steiner says she felt "completely engulfed in love, passion, and iron-willed support from tiny little places scattered all across the U.S. and big cities also."
Steiner, who was commended for the Rota book work in a congressional resolution in July, says she left Rota shortly after the newly stocked library opened, feeling that "her work had ended, and wanting them to have the pride of local ownership in the next phase."
Steiner said she learned from this experience "to trust, really trust, the public, and strangers. I learned that there is a great deal of love in the world-much, much more than I imagined. Whenever I am in public now, I tend to look people straight in the face and smile."
Judy Sobeloff is a Moscow freelance writer, who can be reached by email at freewriting@turbonet.com