Welcome Butters, a down-home guru
The Salt Lake Tribune, August 10, 2008
By Kathy Stephenson
When MaryJane Butters was growing up in the early 1950s, everyone in her Ogden neighborhood lived on a budget. They canned their own fruit and crocheted their own blankets.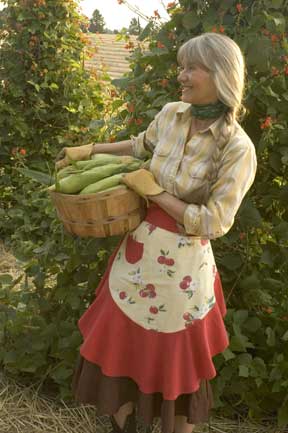 "They didn't have so much clutter in their lives. They created more with their own hands," said the popular organic gardener, author, clothing designer and - now - newspaper columnist.
Butter's new syndicated column "MaryJane's Everyday Organic" debuts online today. The Salt Lake Tribune is one of the first newspaper in the country to pick up the weekly advice column about "everything farmgirl and fabulous." The column will be published Thursdays in The Mix section.
Getting rid of toxic toys, cooking with a cast iron skillet, eating organic on a budget and how to make homemade laundry detergent are some of the initial topics that will help Utah readers step back to a simpler time, even if they don't live on a farm.
"You have to have your foot in both worlds," admits Butters, but it doesn't mean you can't bring the healthy, safe and homegrown aspects of earlier eras into your home. It's not about where you live, she says, but how you live.
Descended from Mormon pioneers, Butters attended Ben Lomond High School. Her father, Allen, was an avid gardener and donated extra produce to those in need. Her mother, Helen, was a leader in her neighborhood Relief Society, the LDS church's women's organization.The family raised or hunted their meat and made their clothes.
Before her two children were born, Butters worked as the only woman on a carpentry crew at Hill Air Force Base; was one of the first female wilderness rangers hired by the U.S. Forest Services and was the first woman station guard at the Moose Creek Ranger Station, the most remote Forest Service district in the continental U.S.
It is the community values and the skills of self-sufficiency that paved the way for her current success, Butters said during a recent telephone interview from her five-acre farm, southeast of Moscow, Idaho.
It's also her playful - not preachy - style.
"I want to teach people how to do these things, the gifts my parents gave me and that era gave me," Butters said. "But it doesn't have to be solemn or give people a guilt trip."
Butters believes a whole generation of people never learned to make a pie crust or a homemade gift.
"But they want to," she said, as evidenced by the popularity of her best-selling book, MaryJane's Ideabook, Cookbook, Lifebook and her nationally distributed magazine MaryJanesFarm.
Butters' empire has spread in other directions, too, from organic cotton bedding and linens to a clothing line. She recently opened her first retail store in Coeur d'Alene Idaho, and sells dried, organic foods in stores such as REI and Costco. On the farm, she runs a bed and breakfast and a school for would-be organic growers.
There are nearly 400 Farmgirl chapters in seven countries and thousands of women meet online at her Web site: www.maryjanesfarm.org