Kids in the Kitchen
Mom, children gellin' with ChillOver desserts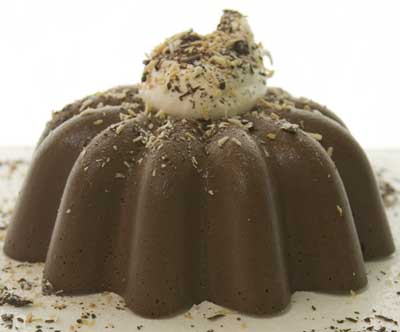 Special to The Spokesman-Review
August 1, 2007
by Carol Price Spurling

I'm from the Midwest, a region whose women are famous for their gelatin salads and desserts. Therefore, as a rebellious young adult, I shunned gelatin.
But culture tends to stick. Now that I have a child, whenever the weather is hot I return to my foremothers' ways. I've been making gelled desserts often this summer (to my son's delight), as a cool change from pudding and ice cream.
Jell-O and Knox brand gelatins have plenty of scrumptious dessert recipes available on their Web sites, www.jell-o.com and www.kraftfoods.com/knox, but our family's favorite new gelled dessert is the ChillOver, which uses a gelling agent not derived from animal sources. Find it online at www.maryjanesfarm.com. (MaryJane Butters, a Moscow farmer and inventor of the ChillOver, hails from Utah, a region where gelatin creations are popular as well.)
ChillOvers can be made into traditional-looking gelled desserts using straight fruit juice, but there are other kid-pleasing combos, too. Top pick at our house so far is lemon ChillOver folded into whipped cream, and layered into parfait glasses with fresh blueberries, strawberries or huckleberries.
ChillOvers are unflavored to start with, so they invite creativity in the kitchen, and you and your child can have fun thinking of new flavor combinations. My son wants to try lime Chillover layered with mangoes, or vanilla Chillover with ripe sweet cherries. Or what about strawberry with rhubarb? Or peppermint with crumbled Oreos? I've taken to keeping a carton of heavy cream in the fridge, besides the ChillOver powder (and a variety of flavor extracts) in my cupboard, so when inspiration strikes, we're ready to go.
ChillOver parfaits take just a few minutes to bring to a boil and cook, and then a few more minutes to fold into the whipped cream. Make them in the morning or early afternoon so they can be well-chilled by dessert time. Supervised children can assist with cooking and stirring the ChillOver liquid, or they can try their hand at whipping cream the old-fashioned way. Just sit them down on the floor with a large bowl, the cream, and a whisk; the main rule is the whisk must stay in the bowl but never stop moving through the cream.
Lemon and Blueberry ChillOver
From MaryJanesFarm magazine, Farm Kitchen edition
1 packet (1 tsp.) ChillOver powder
1/2 cup water
1/3 cup lemon juice
3/4 cup sugar
1/2 teaspoon sea salt
1 teaspoon grated lemon zest
1 cup heavy whipping cream
2 cups fresh blueberries
In a medium saucepan, whisk together ChillOver powder, water, lemon juice, sugar and salt. Bring to a boil. Reduce heat and cook on medium-high for 3 minutes, stirring frequently. Remove from heat. Stir in lemon zest and set aside to cool until it is still liquid but starting to set. In a large bowl, beat cream until it holds stiff peaks. Fold cooled ChillOver mixture into whipped cream. Layer with blueberries in a serving bowl or individual serving dishes. Garnish as desired.
Yield: 6 servings.
Approximate nutrition per serving: 265 calories, 15 grams fat (9 grams saturated, 49 percent fat calories), 1 gram protein, 34 grams carbohydrate, 1 gram dietary fiber, 55 milligrams cholesterol, 210 milligrams sodium.
Make-Your-Knees-Weak Chocolate ChillOver
Adapted from www.maryjanesfarm.com
1 packet ChillOver powder
1/2 cup sugar
1/8 teaspoon salt
1/3 cup unsweetened cocoa powder
2 egg yolks
1 14-ounce can unsweetened coconut milk
1/2 teaspoon pure almond extract
1/4 cup heavy whipping cream
Optional: whipped cream, shaved chocolate, powdered sugar and toasted coconut for garnish
Blend together ChillOver powder, sugar, salt and cocoa powder in a medium saucepan. In a separate bowl, beat together egg yolks and coconut milk. Add to saucepan and beat well. Cook over medium-high heat for 5 minutes, stirring frequently. Remove from heat, stir in almond extract and cool, until mixture reaches the consistency of unbeaten egg whites. Beat cream until it holds stiff peaks. Fold into ChillOver mixture. Divide among eight dessert dishes. Garnish as desired.
Yield: 8 servings.
Approximate nutrition per serving (without garnish): 250 calories, 21 grams fat (15 grams saturated, 70 percent fat calories), 3 grams protein, 17 grams carbohydrate, 2 grams dietary fiber, 85 milligrams cholesterol, 55 milligrams sodium.