Fall perfect time to visit MaryJane Butters in Moscow
Spokesman-Review, August 2008
By JEANETTE WHITE, Awayfinder Correspondent
MaryJane Butters agreed to a telephone interview, but she's late. You envision the famed organic farmer dozing on one of the hammocks dotting her picturesque Palouse farm, far from real-world pressures and deadlines.
Then the phone rings. "The cows got out," Butters apologizes, making it clear that running a world-famous rural paradise has its own pressures.
Butters indeed works hard to make sure guests at her bed-and-breakfast and U-pick fields near Moscow, Idaho, leave feeling relaxed and rejuvenated. After all, people come from as far as Germany to sleep in her gussied-up tents—the only wall-tent B&B ever featured in the New York Times Magazine, Butters says.
Butters' organic enterprises are flourishing like well-tended crops. First, she nurtured a mail-order catalog for organic food into a popular magazine, which spawned a book deal and turned her into an author overnight. ("Whoever thought I'd get $1.35 million to write three books? My husband fixed me breakfast every morning for six weeks!" says Butters, with an infectious laugh.)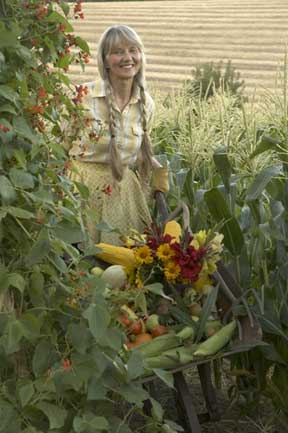 Now, dubbed the Martha Stewart of organic farming, Butters also hosts a farm apprenticeship program and an online international "farmgirl" forum. Her online store and new retail shop in Coeur d'Alene, 210 Sherman Ave., sell everything from aprons to biscuit mix to custom teardrop trailers. Butters also plans to open a store in Moscow in mid-November.
Although the world has discovered MaryJane—even calls her by first name—those of us within driving distance still have the edge when it comes to enjoying the farm's bounty.
Tent for Rent
"Tent" is a serious understatement when describing Butters' B&B sleeping quarters. Inspired by the canvas tent she once lived in as a wilderness guard for the U.S. Forest Service, the 12-by-14-foot wood-floored structures scattered through the orchard feature decks, wood-burning stoves, outdoor kitchens with vintage sinks, and beds with down pillows.
"I put doilies all over my wall tents. It's that juxtaposition of the rugged and the delicate," says Butters. Those who reserve the honeymoon suite even enjoy breakfast in bed, chilled champagne and a complimentary s'mores kit for the campfire.
A B&B breakfast includes gourmet-style eggs from free-range chickens, fresh pastries and seasonal fruit. For lunch, you can drive 15 minutes into Moscow or buy organic food from the farm and make your own meal in the outdoor kitchen.
Butters is gracious with guests who have little experience outdoors. Everyone learns to use kerosene lanterns and light a fire (or even a match, in the case of one Montana woman.) And while outhouses are part of the farm experience, Butters tells a great story about teaching an L.A. woman how to pee outside.
Shower houses feature fresh flowers and willow-branch chairs, but many opt for outdoor cast iron bathtubs warmed by camp stoves. True converts go home and make their own wall tents using blueprints from her first book, MaryJane's Ideabook, Cookbook, Lifebook.
Initially, people intrigued by the concept simply drove to the farm unannounced and gave themselves tours. Obviously, wandering tourists tainted the authentic farm experience B&B guests wanted, so all visitors must now make reservations (www.maryjanesfarm.org).
Enchanted by rural life, some guests find their own routines forever altered—even the L.A. woman, who stayed two weeks. "She went home, quit her job, tore up her grass, and planted a garden," says Butters. "It completely changed her life."
U-Pick Country Club
Even if you're not the country club type, chances are you'll like Butters' U-pick version. For $100 a season (June through September), members get a pass to the farm from dawn to dusk 7 days a week.
First, they attend a farm etiquette training session to learn to harvest and weigh produce, which is paid for using an honor system members find refreshing. Pickers fill bushel baskets with their choice of fruit, vegetables, herbs, organic eggs – even flowers.
Brenda Yates found the U-Pick Country Club just what she needed after working all week as a Spokane police officer. The moment she stepped from the car, she was hooked. "This is where I could spend my life," she told her husband, Mike Yates, a former police detective.
She recalls with delight the first time she watched Mike dig up potatoes. "It was absolutely amazing. One plant and here's a dozen potatoes! I just came undone."
Brenda now has her routine down: Check for fresh eggs, head to the greenhouse for lettuce, then browse the gardens for anything in season, from raspberries to sweet corn. Often, she takes along her granddaughter and a picnic lunch. Before calling it a day, Brenda borrows a farm-related book from Butters' private collection.
"It's rejuvenating," Brenda says. "It's like being able to take a breath of fresh air and really clear your mind."
Butters wants visitors to appreciate the difference between garden-fresh and processed food, and she's generous with gardening and cooking tips. "I'm trying to give them what their heart longs for and knows is missing. We bought into this quick, convenient food but it's really created a nutritional famine."
Until spring, you can get your farm fix with the books Butters has filled with inspiring photos of farm life, recipes and projects. Or, let MaryJanesFarm magazine teach you how to build a campfire, make coffee can ice cream, or fit 39 hay bales in a standard-size pickup truck.
Women from here to New Zealand use the online Farmgirl Forums to swap stories and tips. Others join Farmgirl chapters for face-to-face contact. Brenda Buckingham, a Spokane Valley antique dealer, meets with women in her chapter to stitch rag dolls, browse quilt shows and make pottery.
"Everything in life feels so hurried," says Buckingham. "The farmgirl mentality doesn't. I just like that concept of moving slower, just taking the time to enjoy the people around you."
One leisurely weekend in May, the Spokane farmgirls gathered at Butters' farm. And Buckingham didn't mind a bit when, once again, the cows got out. "It was actually kind of sweet to wake up and a cow's right there."