MaryJane Butters is expanding to her first retail branch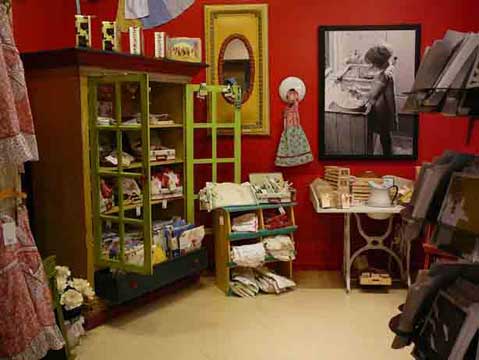 Daily News, August 23, 2008
by Murf Raquet
The MaryJanesFarm store will be in the Plaza Shops adjacent to the Coeur d'Alene Resort in Coeur d'Alene.
Butters didn't have to seek out the location - it came to her.
The resort's management called and asked her if she would like to open a store in Coeur d'Alene.
They wanted the wholesome image and the green qualities Butters and her products project, she said. They also wanted her line of organic bedding and towels, which are made from 100 percent organically grown cotton. She designs much of the her bedding products that are made in India.
The 1,800-square-foot shop, which will be managed by Jennifer Rea, also will include aprons, kitchenware, candles and soaps, cookbooks and MaryJanesFarm magazines, and chocolates.
Butters isn't satisfied to rest on her laurels as some people would.
She's spent the summer playing host to several national magazines and an Iowan PBS station, all anxious to do stories on Butters the business woman, and her farm and bed and breakfast on Paradise Ridge.
Her success comes from sweat and a huge chunk of time devoted to her work.
She also gives credit to those around her.
"I hire great people to help me," she said. "And I have a great family to help."
A grand opening will be 4-6 p.m. Friday. Butters will sign copies of her newest book, "MaryJane's Outpost: Unleashing Your Inner Wild," during the grand opening.
The store is located at 210 Sherman Ave., Coeur d'Alene. Business hours are 10 a.m.-6 p.m. daily. Butters also will teach after-hours sewing and cooking classes. More information is available at www.maryjanesfarm.org.