Bobbie Cleave moved to Logan in 1974 to enroll at Utah State University. That's where she met MaryJane Butters.
"MaryJane and I had forestry classes together. Then we both became U.S. Forest Service wilderness rangers. We shared a lot. I was there when her daughter Megan was born. We've kept in contact, even after she moved to Idaho and I stayed here in Utah."
Bobbie not only remained in Logan (except for temporary relocations to New Zealand and Sante Fe, New Mexico), she also has continued the same work. Since her graduation with a degree in natural resources in 1978, she has been employed for 22 years as a ranger or recreation officer.
In 1980, she married fellow Forest Service ranger Gordon Bosworth. A few years later, she became a seasonal employee, working summers only and spending the winters with her children, Teal and Skye.
Their lives have retained a seasonal rhythm. During the winters, Bobbie and Gordon live in Logan, where he teaches biology and she plays the bagpipes and raises show chickens. During the summers, the family moves to Tony Grove Ranger Station, in the mountains twenty miles from Logan, where Bobbie and Gordon job-share the ranger position.
"Our summers are so wonderful," Bobbie explained. "No phone, no Nintendo, no TV. It's incredibly beautiful. We have been there long enough to know all the hikes and all the lakes. The kids love it, too."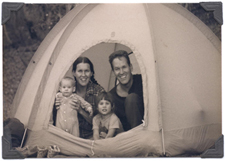 Living and hiking in the wilderness provided many opportunities for Bobbie and her family to try MaryJane's foods that her old friend was producing.
"We tried lots of her meals. They were all really good. We all liked them."
"I really like what MaryJane is trying to do," she continued. "I know MaryJane very well. I know she lives the way she talks — and that she has been talking like this since 1974. She's been able to translate her core beliefs into her life's work. I think that's great."
"I wanted to help. I decided to become a stockholder in her company. It's really just as simple as that."