Pay Dirt Farm School is our non-profit educational program offering farm apprenticeships. The program provides practical experience for individuals who value common sense and introduces them to the operations of an organic farm. The school's mission is to cultivate organic farmers and eaters. The school was founded with the belief that the elimination of deadly pesticides, herbicides, and chemical fertilizers, along with the maintenance of healthy living soil and the rebuilding of local communities, all play a major role in the development of individuals whose thoughts, dreams and actions create positive change.
Apprentices plant, grow, harvest, market, store and preserve wholesome food. Learning to repair broken equipment, build a fence, mend clothes on a treadle sewing machine and build a house or a barn are just some of the new skills apprentices can acquire. The program is not rigidly structured, and academics is not the primary focus of their work. Apprentices actually live the reality of our farm by becoming active participants.
The days are varied, active and pleasant, but each individual is expected to take on new responsibilities and be willing to work hard and long, possibly to get wet, hot or cold and dirty. It is real work that needs to be done. It is not a vacation.
The benefits received by the apprentices include training and experience unattainable any other way, new friends, possibly academic credit and incredible memories. Our beautiful rural setting with sweeping mountain views provides an ideal environment for developing a lifestyle in touch with the land. The lessons learned will last a lifetime.
If you'd like to learn more about our Pay Dirt Farm School, write to us at paydirtfarmschool@maryjanesfarm.org.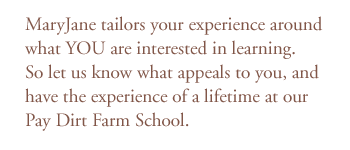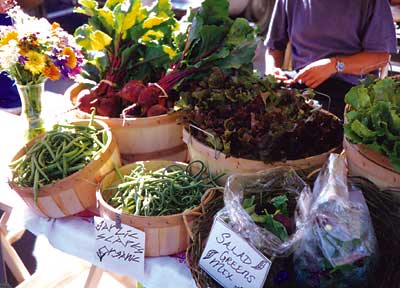 Read more about our Pay Dirt Farm School in MaryJanesFarm magazine. Click here to find out how to order your copy today.