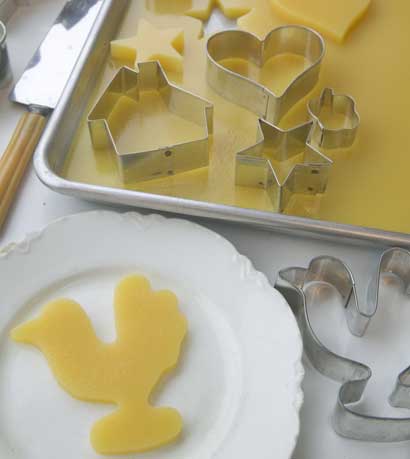 Giggle Wiggles
Sugar-free, dye-free, fruit-juice-sweetened, youngster fun!
4 cups orange juice
2 packets ChillOver Powder
1. Bring juice to a boil.
2. Reduce heat to medium, sprinkle and stir ChillOver Powder into liquid, and cook for 3 minutes, stirring frequently. Remove from heat.
3. Place a 12x17 jellyroll pan on your refrigerator shelf and pour in hot liquid. Chill until firm (about 1 hour). Use your child's favorite cookie cutters to create shapes. (For thicker Giggle Wiggles, simply double the recipe or use a smaller pan.)
Yield: four cups
P.S. Orange juice in fun shapes is a great get-healthy treat for a child who is home sick.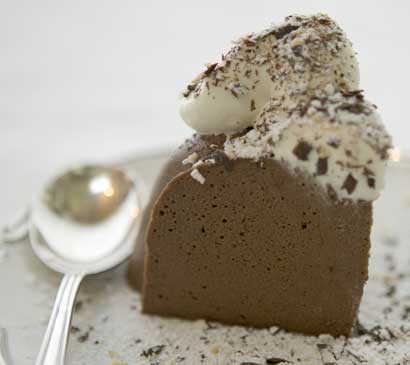 Make Your Knees Weak Chocolate
1 packet ChillOver Powder
1/2 cup sugar
1/8 teaspoon salt
1/3 cup unsweetened cocoa powder
2 egg yolks
1 14-ounce can unsweetened coconut milk
1/2 teaspoon pure almond extract
3/4 cup heavy whipping cream
Optional: whipped cream, shaved chocolate, powdered sugar, and toasted coconut for garnish
1. Blend together ChillOver Powder, sugar, salt, and cocoa powder in a medium saucepan.
2. In a separate bowl, beat together egg yolks and coconut milk. Add to saucepan and beat well. Cook over medium-high heat for 5 minutes, stirring frequently. Remove from heat, stir in almond extract, and cool until mixture reaches the consistency of unbeaten egg whites.
3. Beat cream until it holds stiff peaks. Fold into ChillOver mixture.
4. Pour into a 4-cup mold or serving dish, and follow basic ChillOver instructions on page 102. Garnish as desired.
Yield: eight servings
Buy ChillOver Powder here >
I wanted to offer the people who buy 300 million boxes of animal gelatin every year a healthy alternative, and bring back all the folks like me who have given up on gelatin.
I just knew if I was diligent, I could track down and offer a sea vegetable with just the right amount of gel power and no aftertaste. After many, many attempts (I'll spare you the details), I finally discovered a variety that works, as well as an amount. (The amount used and what it's used with are key components in creating meals and desserts without any aftertaste.) In keeping thematically with my BakeOver idea, I proclaimed my invention a "ChillOver."
Enjoy these two ChillOver recipes, and find more in my first book, "MaryJane's Ideabook, Cookbook, Lifebook."
"A big kudos to MaryJane! We used our key limes and ChillOver and WOW, it's the best stuff. The texture is far superior to any type of gelatin I've used. I reduced the sugar in the recipe so it's a major pucker/sour but we love it! I had purchased it a couple of months ago and memories of old gelatin had kept me from really using it. It reminds me of the gels you eat in Japan only better..."
Jo Thompson
Anchorage, Alaska
"Jo:
I love the ChillOver too. Last week I made the Chocolate and Cayenne ChillOver, folded in some frozen raspberries, put it in a graham cracker crust and served it by the slice. My three men fought over the last piece. I forgot one time to fold in the whipped cream until it was well set, so I just beat it with my mixer and then folded in the whip cream. Turned out just fine. I plan on making several 'pies' with different ChillOvers to serve at a staff luncheon later this month. So far I've found you can't get too much ChillOver. Chill-On!"
Mary
Yakima, Washington