Emil, the oldest of nine children born to Russian immigrants, spent his first seven years in a sod hut in North Dakota. He was a brash ex-logger who had — before Penny was hired — objected to having women employees on the district. She came quietly determined to prove her capabilities and, in the process, changed his view on that particular point. As it turned out, they shared a deep love of the wilderness that sprawled and climbed the scenic Selway River's beginnings. And their marriage began a long and satisfying partnership.
For 20 years, they lived at the Moose Creek Ranger Station year-round. The station consisted of the small log structure the Kecks shared, four bunk houses, ranger's residence, cookhouse and barn. There was an airfield, and four miles on up the trail was Shissler Lookout Tower. There was no electricity. All supplies were flown in, carried in by a pack string or carried on one's back.
"From the end of Selway Road, it was a 25-mile walk in to the station by foot or on stock," Penny says, with a mastery of understatement that makes the day-long hike sound like a stroll down the block. "That wasn't anything, because you walked around all the time you were back there, working on trails or at the station. Your body adjusted to the situation." Penny stands 5-foot-9 on strong legs, sturdy from thousands of miles of hiking. Her hands show few scars, indicating a careful and calculated approach to manual labor.
Penny especially loved the trail work she and Emil did alongside seasonal summer employees or by themselves as a team. "Since I was good at what I did out there, he couldn't fire me. Instead, he married me. After we got married," Penny says, "he was the paid Forest Service employee, and I worked under him as a volunteer. Then when he was forced to retire in 1979, I became the paid employee, and he was the volunteer."
Maintenance included removing brush and logs from the trails, hauling rocks, cooking on a fire and sleeping on the ground. It meant carrying heavy axes and crosscut saws on one's back. Penny was adept at using both. "I was the third of three girls," she says. "So my dad took me outside with him. And there I tried to exist thereafter." She was driving tractor at 7 and chopping wood by the time she was 9 or 10. "If I missed the same mark by even a quarter-inch when I was splitting wood, my dad would tell me, 'That's not good enough. You hit the same mark every time.' So I tried to achieve perfection in the use of those tools."
That aptitude made her effective at keeping the wilderness open to hikers, campers, hunters and fishermen. "Sometimes a whole section of trail would fail and need to be reconstructed," Penny says. "Maybe for years, people had gone straight up a ridge instead of contouring around the hillside and you ended up with a three-foot gully deepened by spring run-off, so you needed to plan a whole new trail route. Basically, we tried to keep nature's resources from ending up in the Pacific Ocean."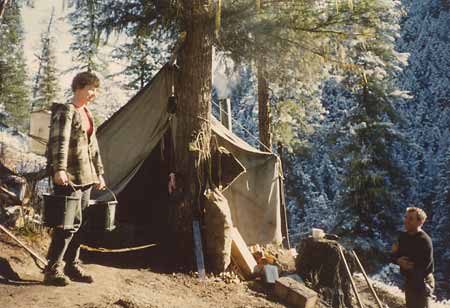 "Sometimes, we'd backpack for 10-day hitches," Penny recalls. "We carried dried or freeze dried food. I would make concentrated bread with a lot of nuts and fruits. We'd take Rye King crackers. And we'd go through 30 pounds of peanut butter a year.
"For baths, in the summer, you washed up with a cup or jumped in the lake or creek, if you had one," she says. "In the winter, we heated water by the stove, poured it into a one-gallon can with holes poked in the bottom, and took an outside shower. Moving from the shower and the tent in zero degree weather could get a little chilly."
During spring, summer and fall work, they pitched a sheet of plastic, or a backpacker's tent if the bugs were bad. Otherwise, they slept under the stars. For winter bridge replacement work, they'd take a 14 x 16-foot tent with a stove in it and stay there for up to five months surrounded by five feet of snow. If a project took longer, they finished it the next winter.
Penny and Emil also main-tained and built the bridges that spanned rushing mountain streams and the mighty Selway River. That work was done during the off-season: fall, winter and spring. When a bridge needed rebuilt, heavy gear and materials were transported to the work site by pack string. "When horses and mules were carrying the food, you could splurge and take a few fresh vegetables like potatoes, carrots and cabbage," she says. "Even apples and oranges. We'd dig a hole near our work site and bury them so they wouldn't freeze."
After working all day, they'd retire to their tent and cook dinner over the camp stove. "We'd read or play cribbage by Coleman lantern light. And we never ran out of something to talk about," Penny says.
There and back at the station, where they had the luxury of cooking on a real wood stove, Penny and Emil shared and alternated chores. "At times, I'd cook the meal, and he'd feed the stock. Sometimes I'd feed the stock, and he'd cook." She stops and smiles. "When it came to pies though, he would always make the crust, and I'd make the innards."
It was at Moose Creek that Penny met MaryJane Butters in 1976. MaryJane was also a first on the district. She was the first female station guard, and spent two eight month seasons tending the Moose Creek station and grounds, renovating an old historic log cabin, tending stock, building fences and growing a wilderness garden.
Penny remembers MaryJane as a person who had definite ideas about things. "She knew what she wanted and wasn't afraid to go for it," Penny says.
Penny, Emil and MaryJane often shared work, meals and talk. "We discussed a variety of things," Penny recalls. "Philosophically, we always appreciated a chat about wilderness, land use and the aspects thereof."
Following Emil's bitter departure from the Forest Service in 1988, Penny and Emil were forced to leave Moose Creek and moved into a house right next to the Selway River. Penny went to work at the Fenn Ranger Station two miles away. Emil died of a broken heart two years later at age 77. "We probably did spend more time together in 24 years than most married people do in 50," she says. "We did everything together. We shared … everything."
Penny has worked at Fenn Ranger Station now for 14 years. During the winters, she spends far too much time working in front of a computer to suit her outdoors spirit. But the rest of the year, she's outside as much as possible, supervising six to 20 summer employees and several area lookouts. "We bring on fire crews the end of April and they stay up until the middle of November, when the last ones depart."
The crews burn logging slash, monitor prescribed burns and hand pile fuel loads in certain areas. "I can find honest work for them for forever," Penny says. "If there's no fire work, I'll put them on roads or trails. We have 200 miles of road to maintain."
Many summer employees are current college students who may not have previous outdoor work experience. Part of Penny's job is seeing that they know how to use the tools for the job.
"It's satisfying because you give them an opportunity to learn new skills," Penny says. "And you try to do it in a safe manner. I've seen some that — my land, they couldn't hit the same spot with an axe twice, and you worry about them sinking it into a leg. It scares the liver out of me! But once they start improving, it's really fantastic to watch them grow."
Penny also serves as a Forest Service technical coordinator for crosscut saw training. During spring classes at various regional locations, she trains other crew supervisors to use the crosscut so that they can impart their knowledge down to their crews. "Last year, I was at Spotted Bear, which is in the Bob Marshall Wilderness. It was great to visit a place new to me."
During bad weather Penny walks the two miles to work each day. "It's a short two miles," she says, "and it takes about 30 minutes. When the weather's good, I get out my bicycle." As for rain, sleet or snow, she shrugs and says, "We're not made of fancy stuff that will melt. I'll dry out when I get there."
In her off time, she enjoys gathering her winter's wood. "I also help a friend get her wood. There's another lady who's 92, so we get her wood, too." She laughs off the idea of enjoying what others would consider work. "The landscape is forever changing, each day and each season. There's just never enough time outside."
Of her years at Moose Creek, she says thoughtfully, "I still cherish the memories. It was not always great. Sometimes, the work was hard and frustrating. But work is good for the soul."