Archive March 2011
All of the articles archived for the month that you have specified are displayed below.
Seriously?!
Dear Jake,
Seriously?!
You gotta be kidding me!
With Much Un-Love,
Rebekah
In my neck of the woods, springtime means flowers. Yes, as much as I complain about Georgia in the winter for its lack of winter wonderland weather, I applaud this place in springtime.
Looking down, you see gardens filled with colorful spring flowers. Purple hyacinths, red tulips, yellow jonquils.
But my favorite flowers are the ones I see when I look out and up.
Trees around here really deck out for the spring show.
Flowers, flowers everywhere.
Spring, Green, Bean, Cool.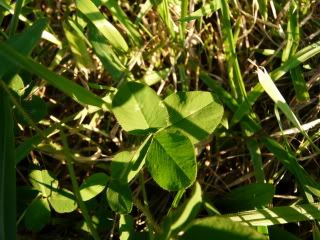 My four-leaf clover
Spring.Green. Wow, spring is about to spring on us. Only a few more days left of Old Man Winter. Spring officially arrives on March 20th at 7:21 EDT. WooHoo! Are you ready for your browns and whites to turn green? My brown world is already changing. We've had some warm weather here, and everything is changing to and popping up. Green.