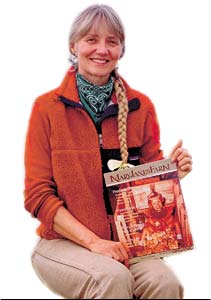 Jesse Nolte/Daily News
MaryJane Butters just published her first edition of "MaryJanesFarm," an organic lifestyle magazine. Butters is an organic farmer on Paradise Ridge near Moscow.
---
Mary Jane's green dream realized; Following footsteps of Martha Stewart, organic entrepreneur launches magazine
Alan J. Solan
MaryJane Butters wants to be Martha Stewart - only better.
"No one's doing what Martha's doing with the spin on healthy foods and safe homes," said Butters, owner of Paradise Farms Organics near Moscow.
Butters took a major step toward that goal last month with the debut of MaryJanesFarm, a 116-page full-color publication she calls "two parts women's magazine and one part catalog."
Content for the first issue came mostly from letters and other comments on healthy, rural living that had been posted by customers and friends on Butters' Web site www.maryjanesfarm.org.
Butters created the magazine primarily as a way to make information on her Web site available to a larger audience.
Also, she had invented a one-skillet meal called Tarte Tian and she wanted a way to share it with the world.
"I thought, why don't I combine a catalog with a women's magazine?" she said at her farm eight miles south of Moscow at the base of Paradise Ridge. "I essentially put my Web page into magazine format."
Butters, a self-described "voracious reader," subscribes to 55 magazines. She said the style of her own magazine was shaped by the shortcomings she found in other publications.
She wanted to provide a source of information about healthy living and cooking with organic foods, but looked to avoid things like "ads for $400 pointed high-heel shoes."
MaryJanesFarm has no advertising. It doesn't even sell subscriptions. One-year subscriptions are offered to customers who buy $50 worth of Paradise Farms organic foods.
From conversations she had with female customers over the years and comments from letters to the editor in many magazines, Butters decided she knew what rural women wanted.
"I thought, let's all get together and discuss these things," she said.
Butters praises Martha Stewart because she "gave validity to what women like to do in their homes."
In the 1970s, Butters became one of the first two female U.S. Forest Service wilderness rangers and the first female station guard at the Moose Creek Ranger Station in the Selway-Bitterroot Wilderness area.
Butters said she wants to celebrate women's talents and strengths, and the feminist movement notwithstanding, those strengths often include "a love of domesticity."
Butters founded the Palouse-Clearwater Environmental Institute in 1986.
She said she decided long ago that helping farmers convert to organic farming was preferable to criticizing or fighting them.
Her organic food line, which includes about 60 dried products and fresh salad mix, began with a falafel mix she developed in 1990 to create a market for a local farmer's organic garbanzo beans.
"I grow organic foods, but I also grow organic farmers," she said.
Paradise Farms Organics products are sold by mail-order and at the Moscow Food Co-op and other health-food stores across the country.
"I think she's definitely a pioneer," said Kenna Eaton, manager of Moscow Food Co-op. "She's constantly trying to create markets for organic foods."
The co-op offers about a dozen Paradise Farms products in prepackaged or bulk form.
Paradise Farms got a major boost in 1997 when Butters contracted with Mountain Safety Research, a division of the outdoor products company REI, to create a line of instant organic backpacking foods.
Butters now laughs about how she didn't return MSR's call for two days because she thought the message on her answering machine was from a survivalist wanting her to make MREs (Meals Ready to Eat).
Light and Tasty Magazine and National Geographic have featured Butters and her company and a segment about her farm will be broadcast on the Food TV channel this fall.
Monday in Boise, she will receive the Progressive Businessperson of the Year award from the group United Vision for Idaho.
The award recognizes "those who have dedicated their lives to social, economic and environmental justice in Idaho," UVI Executive Director Jim Hansen said in a statement announcing the award.
Butters said she would love to have her own television show "like Martha," where she could feature organic farms around the country and then prepare meals using the farm's produce.
"I want to sell hope and I want to sell food," Butters said. "I want to nourish people's lives."