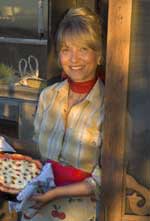 Bulk Preparation Instructions.


For those with any allergy concerns, please note that all of our food products are processed in a facility that handles dairy products, nuts, peanuts, soy and wheat. We handle our Gluten-free Budget Mix to insure it remains free of gluten.

"I recently broke down and sent off for a selection of "Farmhouse" sized soups, Spuds 'n Spinach, Mac 'n Cheese, Breakfast Fritattas and so on—a good sampling of different things in the bags to which you just add boiling water. My husband and I have been enjoying them SO much. They really are incredibly delicious, and it's lovely to know there are no nasty chemicals or anything unidentifiable in them, making the hefty cost worth it. Maybe not for every day of the year, but certainly for busy ones. I think the package design is brilliant. It's nice, also, that the packaging is limited to just what's really necessary, no extraneous plastic outer wrapper, "zip" sealers or anything. This is "putting your product where your mouth is" on BOTH sides of the transaction."
Rosemary,
from the Farmgirl Chatroom

How about the many times you've promised yourself you'll sit down every Sunday evening and plan the next week's menu? Your kitchen table is cluttered with cookbooks, post-its, recipe cards and pages torn from magazines. You could at least use a bookkeeper. You list all the items you'll need for the recipes and then check your pantry.
Since keeping a pantry fully stocked with fresh and rotated staples is nearly a full-time job, you've decided you'll only buy 1 cup cornmeal, 1/4 cup walnuts, 2 Tbsp. coriander, 2 cups oats, the zest of one lemon ...


Frozen dinners taste like … frozen dinners. Canned food is just too weird. Deli food and restaurants are fun until you pay the bill and get tired of restaurant noise.
Then there's the guilt. You should be able to prepare a wholesome meal from scratch at least 6 nights a week, pack a nutritious lunch, serve a breakfast that isn't a breakfast "candy" bar and keep your kitchen clean, your fridge clean, your stove and oven clean, the groceries bought, the goods in your freezer used up on time, leftovers composted (not in your fridge), your knives sharpened ...


I swear to you, my food is truly elegant AND easy. I promise it's easy. You'll see. You'll know exactly what you're serving for weeks in advance. You'll spend just the right amount of time in your kitchen. You'll share me with others as the solution YOU discovered.
Try my Instant Hot 'n Spicy Black Bean Flakes as a chip dip. In ten minutes we can "skillet bake" my Garlic Pesto Fry Bread and serve it with one of my instant entreés. For hot food now, we simply add boiling water to my Red Pesto Pasta or Curried Lentil Bisque.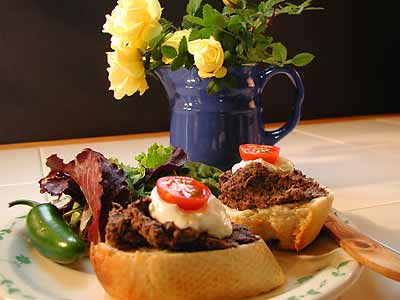 On those nights when you haven't the energy to
even chop up vegetables (you know those nights),



All you need is one of my instant Pouch Cook® meals.
With my Pouch Cook foods, you simply add boiling water directly to the stand-up package, fold the top down and wait a few minutes.
Let's say tonight everyone in your household will be arriving home for dinner at different times. From your pantry you choose from my Instant foods: Chilimac, Buttery Herb Pasta, Sweet Corn and Black Bean Chowder, and Southwestern Couscous. You set the packages out for everyone to choose from. For yourself, you pick Peasant Tomato Soup.
Since tonight you're needing time for a long hot bath, you dine directly from the pouch. The pouch is attractive and non-aluminum (this helps with the guilt thing). No dirty dishes. Dessert is a fresh apple or grapes or a pouch of my Organic Bavarian Chocolate Mousse.
Just before you go to bed, you toss one of my Instant Farmhouse pouches (much less bulky than a soup cup) into your purse or briefcase for lunch tomorrow along with one of my Chocolates.
For breakfast, you'll just boil water and enjoy a pouch of my Instant Hot 'n Creamy Cereal or pan-fry some Griddle Cakes with Powdered Maple Syrup Topping.
If you're spending the weekend away from home, you'll pack up some of my Instant Outpost packages.
If you're a student, you need brain food. All of my instant foods bolster you up with fast food that isn't junk.
My organic food list goes on and on. My meals are unlike anything you've ever tasted. My idea works.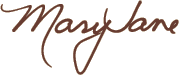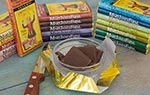 As an organic farmer, my mission is to offer you health and happiness — either by feeding you or treating you ... to fussily decorated ideals that are infused with generous dollops of sustainability! What could help me accomplish my goal better than organic chocolate?
•Café Inspired
•Milk Inspired
•Nutorious
Farm Maidens
•Out-of-the-Box
•Virtuous Dark