Whether you're a bona-fide farm chick or a down-home city chick dreaming of the farm you never had, here are five ways to ...
be a farmgirl:
Join our Farmgirl Chatroom
Chat with other farmgirls from around the world! Anyone can read our discussion topics, but to join in, you need to sign up. To the right, you'll see the four most recent posts from our more than 19,321 members. Just click on one to read it or click here to see all the topics and posts in our chatroom.
Join the Farmgirl Sisterhood


Receive an exclusive farmgirl badge, special product offers, and our beautiful online newsletter packed full of Sisterhood news and tips; gain access to your own virtual online "Henhouse"; earn Merit Badges (think Girl Scouts for grownups); and more when you become a member of our Farmgirl Sisterhood.
Find out more...
Become an "official" member today!
Start or Join a Farmgirl Chapter
If you're yearnin' to meet up face-to-face with other farmgirls in your area, start or join a Farmgirl Chapter. MaryJane is proud to say that there are now 1,399 Farmgirl Chapters located in all 50 states and 10 countries with 6,051 Sisterhood members — growing stronger every day!! These groups consist of diversified, talented, caring, creative, like-minded women just like YOU! This is truly the best Sisterhood to be found anywhere! Click here to join in.
Sign up for Farmgirl Projects
Calling all farmgirls! Take a peek at the variety of projects created by our fabulous farmgirls at heart. We're sharing traveling dolls, aprons, and books, creating Mail Art, making Charm Quilt squares ... who knows what we'll think of next? And ... you're welcome to join in! Click here to find out how.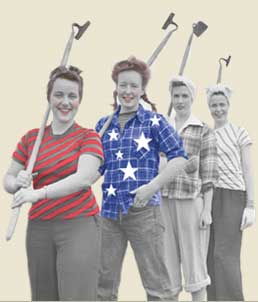 Share your thoughts, ideas, and fabulous finds with other farmgirls on our online chatroom — everything from book reviews to knitting projects to finding a farm to vintage sewing patterns to just plain chitchat. Here are the four most recent posts:
- last post by sherone_13
- last post by YellowRose
- last post by treelady
- last post by YellowRose
Anyone can read the discussions, but to join in, you need to register to get a user name and password. We encourage you to join in and sign up! However, comments are moderated. No spam, personal attacks, profane language, off-topic comments, or crankiness in general will be tolerated. We reserve the right to edit or delete comments that violate these guidelines.