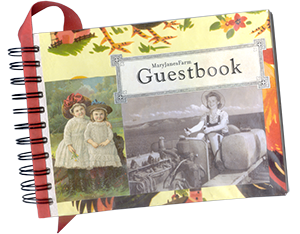 Fanfare from our B&B Guests
Read selected entries from the Wall Tent guestbooks left by MaryJane's B&B guests
2004–present.
July, 2011
Wow! Marvelous, stupendous, incredible, amazing, quiet, peaceful, tranquil, picturesque. Can't wait to do it again! Words can't seem to fully describe it; you just have to experience it. The breakfast was amazing. Thank you, thank you, thank you! Brilliant, thanks for sharing. I'm envious of your chicken coop and run; can't wait to go home and modify my own. This place... Thanks!
Ryan & Amber, 10th Anniversary, Washington
July, 2011
Beautiful place, great energy, and awesome people! We had the best weather and cool nights for campfires—no bugs, not like Wisconsin. The breakfast—to die for—5 star and made with love.

Went down and swam in the Snake River and Hells Canyon—very cool! Thanks Megan, Kim, Josh, and MaryJane—a very special place! We have relaxed, enjoyed, and rested. We hope to return next year!
Tracy & Tony, Wisconsin
July, 2011
We have truly loved being here. We spent the second day exploring downtown Moscow and fell in love with the town. We spent numerous hours going from store to store just window shopping. Back here at the farm, I took a hike to the top of the mountain ... the view was amazing! Sitting by the campfire, the s'mores were excellent! For two days, we were able to leave our stressful lives behind ... Thank you so much for an amazing date with my wife!
Terry, Idaho
July, 2011
What a relaxing place! We watched thru the mirror, while in our bed, as a bird made a nest in the clothespin holder. What fun! This place is amazing ... great time, sure to return!
Sarah & Rick, Indiana
July, 2011
What a fun and wonderful weekend with our farmgirl sisters, and with the "Queen Bee" MaryJane and her sweet and fun daughter, Meg!! A relaxing, refreshing retreat, so we could "disconnect to reconnect" —wow!!! The breakfasts!! How does one describe elegance and class in the Plum Pit around a campfire and total pleasure on the palate and the environment?! Thank you! Thank you!
CJ, Colorado
July, 2011
I turn 50 today, and could not think of a better place to celebrate. The outdoor tub brought tears to my eyes. With the scent of cloves on the breeze, I was marveling in the nature ... After my bath, I took a walk around your gardens. My inner "wild child" is speaking to me loud and clear!
Diane, Wisconsin
June, 2011
This will be an unforgettable vacation for us! All of you made us feel like part of your family. We were, above and beyond, pampered! The extra-special touches to our best friends' vow renewal gave them a celebration to remember! The love and joy we felt from everyone has inspired us to pass it on to many more. We will be back.
Cindy and Dean, Oregon
June, 2011
How can I sum up our stay here? ... Awesome, fantastic, peaceful, relaxing, warm, cozy, full of warm-hearted special people, majestic, wonderful, and the list could go on!
We renewed our vows here after 20 wonderful years together ... the girls, Megan and Kim, went the extra mile to make our ceremony "special." Thanks, girls! This place and you will forever be etched in my heart! What a great thunder and lightening storm we were privy to while cuddled in bed—WOW is all I can say! Again, thank you for an awesome experience. We'll be thinking about this special place for years to come, and we hope to be back next year.
Tim & Robin, 20th Anniversary, Oregon
June, 2011
The best nights' sleep in forever, like camping with a great, comfy bed. This farm has inspired me to go for my farmgirl dream. Thank you and your wonderful staff. This has to be the job nobody wants to leave. Best spring break ever!!
Ruth, Tennessee
May, 2011
What a truly BEAUTIFUL & PEACEFUL place! We arrive to a fire already going for us and hot bath upon our arrival.

Chilled champagne and chocolate ... yum! The bed and linens are fabulously comfy. We awoke to breakfast in bed and, oh, was it delicious! It just keeps getting better and better with each passing moment. Listening to the wind in your tent is soothing. Hiking up along the ridge was spectacular—there are so many beautiful views. This place is going to be a tradition for us. We will be back, time and time again. MaryJane, you are truly a genius! Everything was done beautifully, every last detail!
Thank you so much, all of you here @ MaryJanesFarm.

Matthew & Eve, 6th Anniversary, Oregon
May, 2011
The whole experience was wonderful! The food at breakfast was great! We loved shopping at your two stores! Waking up to the birds chirping was something you don't experience in the city. Thanks again for letting us share three generations of the women in our family. We will be back! But 'til then, we will take home the memories we made.
Thanks once again, Peggy, California
September, 2009
I have had the privilege of experiencing four miracles in my life:
When I married my husband,
The first time I ever saw my adopted children,
Working in Africa with orphans,
Talking with you and staying at MaryJanesFarm.
Thank you for making one of my miracles come true!
Fondly, Michelle
August, 2009
What a beautiful stay we had! Each cabin is so utterly beautiful. The attention to detail and the design of the place is what made our short time here so magical. Thank you!
Love, Rowan & Storm
August, 2009
How does one go back after tasting the sweet farm life here?? I believe in making the world a better place for having lived, and you have done that ... and share it with all who desire to come and experience "the good life." Thanks!
Michelle
August, 2009
My friends at MaryJanesFarm,
Thank you so much for the kindness that you all have shown us! What an amazing place! I can hardly wait for my next trip back. The outdoor tub, "Whiskers" the chicken, and the food are just a few of my favorite things!
Elizabeth
July 15–16, 2009
Thank you so much for sharing this wonderful place. I love the classy, romantic camping setup. Very creative and tranquil. A blessing to be here in nature and a delight to meet such wonderful, talented, and joyful staff!
Thanks, MaryJane, for visiting with us, and your encouragement to pursue my similar dream is a gift to my heart.

, Angela
July 12–16, 2009
This trip was planned for my 25th birthday. I'd wanted to come here ever since I'd seen the ad and found myself on the website. "I have to go there!" We arrived on Sunday shortly before one of the most amazing thunder and lightning storms! What an awesome way to start our stay.
This place is so tranquil! The cozy bed, the spectacular view, the sweet outdoor tub, and, most importantly, the great people made this stay a birthday I'll never forget! Thank you, MaryJane, Nick, Chris, Brian, and Denali... oh, and Katy and Kayleigh! for all you've done! We can't wait to come here again!
Thanks, Alecia & Jeff D.
P.S. How could I forget the bike path to Pullman! Great ride! The good food at Nectar and Sangria! The totally rockin' strawberries from the garden and the delicious farm-fresh eggs! We don't want to leave!
July 9, 2009
Thank you everyone for the beautiful setup and thought that went into the comforts of the farm. We honeymooned here and are now back for our 5th anniversary.
Thanks, Lisa + Mustafa Kumcur
July 6, 2009
Thanks to you, MaryJane and everyone else who makes this all possible. It's been everything I imagined. I'm a stressed-out ad exec from Seattle working on an exit strategy to a life on a farm. This place is a real inspiration. I had never been to this part of Idaho, and am struck by the amazing beauty. I hope to find my own slice of heaven someday soon, and will send you pictures when I do! A big shout out to Chris — fantabulous chef and all-around interesting guy

Warm wishes and happy trails, Marcella & Jamie
July 4, 2009
Dear Nick, MaryJane, and Staff,
Thank you all so much for the wonderful time! We loved it and can't wait to return. Everything was wonderful and everyone so friendly — we truly felt as though we were among friends. Keep up the great job of being such good stewards of God's great land!
Randy & Bonnie Jones
Grainmaker.com
June 26, 2009
This was everything I hoped it would be — plus. The tush-wearying trip to get here worth every mile.
My husband was afraid I would be disappointed, because of my high expectations. Now he is excited to get home and build a retreat (one tent) such as this on our property.
Thanks, MJ and all.
Bessie & Dick
June 20, 2009
Dear MaryJane —
What an awesome experience — all the atmosphere of camping, but the comfort of a 5-star hotel! We had a great time and enjoyed every aspect of the experience. The tub, campfire, hot chocolate, and s'mores were wonderful. Thanks for the tan, and the nice time.
Mare and Jerem Hapreis
June 16, 2009
MaryJane and crew,
What a wonderful place this is. Having grown up on a big farm in the Spangle/Waverly/Fairfield area, it was just like coming home.
It was a real treat to be with my two younger sisters and niece Marci Miller! A memory I shall treasure forever — thank you. Farming is basically the same, but certainly has been taken away by "modernization" and government! Keep up your ideas and ongoing farming so our grandchildren can know of their roots! You are a true pioneer woman in heart and spirit!
Blessings to you.
From a cherry orchardist — Patricia Fergus #601
May 20–21, 2009
My friend Sherry booked our two days here. I didn't know a thing about the place. I am no "camper." So when we arrived and was told "let me show you to your tent," I was 1) suspicious, 2) slightly alarmed, and 3) a little worried.
Imagine my surprise to find a little piece of Paradise here. Now this is the way to camp! I totally want to start my own campground back home in the hills of western Massachusetts.
Can't wait to get back to my easel to paint some of these gorgeous surroundings. Meanwhile, I am certainly enjoying my stay.
Trish LaFrenure
June 25, 2007
What an unexpected treat. We knew it would be great, but had no idea how wonderful our two days would be. Exploring the farm, cooking, lazing about, cozy in our tent. We made memories of an unforgettable mother-daughter weekend! Next time, we'll bring the family!
Pam (mother)
June 13–15, 2007
What a beautiful time Chris and I had! "Enchanted" is a good word to describe our time here!

This was our 9th anniversary — left the two little girls at home with the grandparents and retreated to reconnect with each other and God. The breakfasts were incredible! April is an amazing cook and great to talk with — as was Nick! We hiked the ridge, saw the waterfalls at Elk Creek and the giant Cedar tree. The best thing was seeing the moose in your pond our first morning and crawling on our bellies as close as we could to it. Being here has awakened (again) my desire to live close to the earth in order to feel the deep beauty of God! The honeymoon suite rocked! A toast to you all!!!
Love, Rebekah & Chris Garvin
July 12–13, 2007
Being persuaded by a loving, possibly eccentric, wife I reluctantly agreed to these two days with "MaryJane", whom I dubbed as non-existent. What a pleasant surprise to find her real and more in life than described in publicity we reviewed. This has been a heart-changing experience. Thank you for making our experience a part of your life, and including us in the workday attitudes so pleasantly expressed by all your staff.
Sincerely, Kay & Kathleen Norris
P.S. We'll be back.
May 11–14, 2007
The perfect mix of luxury and camping. The tent was wonderful... the perfect place to sleep, lulled into slumber by the calls of wild turkeys and howls of coyotes; awakened by more varieties of bird calls than I could identify.
The breakfasts were wonderful. Thank you so much!
Scott & Connie Hoover
Sunday, Earth Day, April 22nd, 2007
It is actually now Monday morning, and we just watched two geese land in the pond below us. We sit, drinking coffee outside on a glorious sunny day with a cool breeze blowing through the neighboring pines. Aly and I were married yesterday afternoon in the Palouse Ice Rink, surrounded by 300 or so of our closest family and friends. The bike ride out here from town was refreshing and warming as we arrived around midnight through the fog on Paradise Ridge.
MaryJane, thank you so much for your hospitality and gift. We just finished an amazing breakfast prepared by April, and delivered magically as if by an elf. It is so nice to sit surrounded by the ninebark and chokecherries. It is such a gift to be spoiled with such love, kindness, and grace. It is the perfect place for us to be right now! The food is so amazingly yummy!
The two geese are now wondering around upon the field, murching on things that they find. I think they are inspiring Aly and I to go for our own little walk around the farm. The ridge is calling us to join it!

Tom + Aly Lamar
(of the Palouse-Clearwater Environmental Institute)
July 4, 2006
From Mississippi to Idaho we came, and Idaho will stay in my

for a long, long time. What a charming place — inspiring beyond words.
Thank you for opening your heart and home to us.

Leslie Ballard
Farm Fair, 2006
Friends~
It has been an honor to briefly dwell in a spirit of goodness and sacred beauty. The nurturing and preservation of the natural world, something you do so well, celebrates the soul and elevates us all to focus on the higher good. I can think of no better cathedral in which to express my humility and awe as I bask in creation: the dawn brought the songbirds and a rooster... the setting sun reminded me to rejoice in the day and rest for one anew... the myriad of people brought together in utter inspiration and expression. Grandeur isn't something typically so approachable and real. I believe this is your gift, each of you reading this, to capture such a spirit, take it away to your place in the world and create magnificence. Well, what a gift. I thank you!
Blessings ~ Julia M. Hayes
June 14, 2006
What a fun, wonderful, and relaxing stay we have had on your farm! Your hospitality is family style. We have enjoyed ourselves so much. The simplicity is catching. Picking strawberries and lettuce was so delicious. The coziness of the wall tent was so fun — even with a wind storm whirling around us, and a night that filled with the delightful sound of pouring rain. It was like music.

Thank you for sharing. We will look forward to returning.
Best wishes to you all, Karl and Tamy Wilkinson
June, 2006
Hello there, MaryJane!
My family and I really enjoyed staying here. It was a truly wonderful experience. I'm sure you could tell from our loud dinners and "cocktail parties." My brother and I loved everything about our tent including the fire stove, the lanterns, the coffee, and the location (closest to the outhouse)!
Besides the unbelievable view, the smells, the gardens, the food, and the people, my favorite part had to be the light-anywhere matches. Very cool! Anywho, thanks again for an out-of-this-world experience and I hope to see ya again.
Maddie and Dylan (The Baker Clan)
September 27, 2005
Farmgirls are fun! Thank you for the stay, loved the tent, chickens, plum pit breakfast, goats, stove, outhouse and views. You are all very nice people.
Sincerely, Joe & Kristin Suapp
September 22, 2005
Dear MaryJane and all the wonderful folks here at the farm —
What a Wonderful way to spend our 48th wedding anniversary. It was an incredible experience. We had a wonderful sleep in the wall tent. Breakfast was absolutely delicious.
Thank you for the card and candle, and all the nice moments of our stay.
We'll stay in touch by way of the magazine, and hope to return again.
Ray & Nancy Volburg
July 30–31, 2005
We were married yesterday evening and were so pleased to settle into the tent for the night after a long (fun, but tiring!) week. This is pure beauty and I would love to live here. We will surely be back again before we leave Moscow. Thank you for creating such a perfect blend of natural and comfort. Happy farming.
Love, Kristina & Kip
July 24, 2005
MaryJane and the farm crew,
This is such a beautiful area and a breathtaking farm. It is clear just how much love and care goes into everything here. I am so happy to know that a serene and pristine place like this exists. My whole experience here went far beyond my hopes and expectations. MaryJane, thank you for opening your heart and your farm so that people like me can come from a distance to see it. Your vision and your farm and this organic way of life have truly inspired me. Thank you, and big thanks to your wonderful and kind staff. It is great to be around such happy, healthy people.
Much peace and love, Danielle Boucher
July 3–6, 2005
Oh, if only my yard were big enough to build a wall tent, I'd never go back inside! Thank you, Dory, for all of your attention and thoughtfulness — and your wonderful spirit. Thanks, Sally and all of the farmgirls at the farmgirl gathering. Thank you, MaryJane, Nick and crew for dreaming up and delivering on this wonderful adventure — and for sharing your experience with others. I slept like a baby! I wish I could take the sound of the crickets and nighttime birds, the smell of the land, and the therapeutic sights with me, but I carry them back in my spirit. Thank you for the incredible experience and for keeping it organic!
Jana Lien
July 2, 2005
WOW.
This was just what I needed! Peaceful, quiet, cozy, and inviting! You were right; I didn't want to climb out of bed this morning!
Thanks for the "loving touches" — everywhere. There are simple delights at every turn. I will be back with family and friends.
Much love, Cindy S.
June 29–July 1, 2005
What delicious memories we have made during our first stay — exceptional hospitality, roaming chickens, strawberries warmed by the sun and ripe for the picking, crowing roosters, farm-fresh breakfasts and good company at the plum pit (thanks, Dory and Melissa, for that, plus your other great eats and hikes suggestions), slow walks down the lane, perusing flower gardens, fresh laundry flapping in the breeze, and roosters... crowing roosters (did I mention that before

). Thanks to everyone for allowing us this fantastic opportunity and experience.
We're thinking this might be an annual pilgrimage!
John n' Lucy Schott
June 23, 2005
Much thanks to all of you — Dory, MaryJane, and staff — who have made this farm a wonderful, peaceful getaway, and also an inspiration to those of us who work ten hours a day in our office, but dream of a simpler, more meaningful lifestyle. This is it!
This week we played in the sun, hiked Elk Creek Falls, read a lot, picked strawberries, and huddled in the tent during an overnight storm.
Our next stay will be longer!

Lauri & Teresa
June 19, 2005
Yea! we're married! And what a wonderful spot to start our life together. This place is beautiful, relaxing, and just perfect! Thanks for the breakfast-in-bed and everything!
Thanks, MaryJane and crew!
Jane & Zaid Abdo
September 21, 2004
MaryJane,
You are truly an inspiration. Thank you for two days of memory-making fun and great photos. We loved experiencing the dream you have created. I hope we can represent it well on the pages of Country Home magazine. Your family and staff are terrific as well. Thank you for welcoming our crew, Emma, and me to your farm.
Lisa Holderness
August 23–25, 2004
We really enjoyed our two days spent cuddled up in bed with a good book listening to the rain on our little home away from home. I'm going to miss being cuddled up with my husband, reading and dozing off and on. We have both been so inspired by our visit to MaryJanesFarm and hope to create a magical home in the outdoors in Roslyn. Thank you for your commitment to the land, to feeding people healthy food and for sharing your beautiful place with others. In one of your magazines you ask, "Should I go on T.V.?" Oprah has power, people listen to her. Getting your ideas heard through that medium could be extremely beneficial for thousands of people. I think I'm in favor, except be prepared! I once saw a show where she highlighted a style/brand of exercise wear that looked really comfortable. I went online to check out the pants, maybe to buy. There was a message stating that due to the appearance of the pants on Oprah, orders would be backordered for months. Anyway, I know if MaryJane follows her heart, all will work out for the best.
Don and I look forward to a return trip, hopefully a "farmstay" sometime in the not too distant future. Thanks to everyone for your kindness; Dory for your incredible hospitality and braving pouring rain to bring us a yummy breakfast. We would love to see anyone coming our way at the Huckleberry House in Roslyn, WA.

Sibyl & Don
July 8, 2004
The view was great! My husband had us stay here for a romantic evening. We've been married for a little over a year, and due to unfortunate events no longer had a wedding ring. We sat outside overlooking the farm, and he proposed all over again. Thank you so much for this opportunity! We love this place!
Beth & Joe Dees
July, 2004
Katie (mom), Calvin (11) and Lexie (7) spent two glorious days at MaryJanesFarm. We didn't know what to expect, which made it fun. Dory greeted us with a big smile and a much appreciated tour of the property. We really enjoyed our time here by mostly kicking back, enjoying the yummy fruits and veggies, but most importantly trying to catch those darn chickens. My kids will never stop talking about those birds. I most enjoyed the friendly staff, loved the pumphouse, and Dory's breakfast (+ coffee

).
Thanks to all for giving us a true glimpse of rural "farm" life. Your personal touches and beautiful yet rustic tents made it a very special and tranquil vacation.
Warmly yours, the Brights
June 18, 2004
... if I were Him, I would have slept through the 7th day into the 8th it's so peaceful.
Ruby & Emily
June 16, 2004
... and on the seventh day He rested. Bet'cha I know where. See you in July.

Mare & Becka