FieldsofThyme
Farmgirl Guide & Schoolmarm / Chapter Leader







4928 Posts



USA
4928 Posts

Posted - Aug 22 2012 : 07:37:37 AM

---
Fiesta Salsa



7 cups chopped, seeded, peeled, cored Tomatoes

2 cups chopped, seeded, peeled Cucumbers

2 cups chopped and seeded Banana Peppers

1 cup chopped White Onion

1/2 cup chopped, peeled, roasted Anaheim Peppers

1/2 cup chopped Jalapeno Peppers

1/4 cup minced Cilantro

3 cloves Garlic, minced

1 TBS minced fresh Marjoram

1 tsp. Salt

1/2 cup Cider Vinegar

2 TBS Lime Juice



Combine all ingredients in a large saucepot. Bring mixture to a boil. Reduce heat and simmer 10 minutes. Ladle hot salsa into 4 hot, pints jars; leaving 1/4 inch headspace. Adjust two-piece caps. Process 15 minutes in a boiling-water canner. Remove jars from water-bath and place on countertop (I put a thick towel down on my counter first) to cool. Check cap for successful seal by pressing down in the center. If the lid center does not move up and down, when pressed, the lid has sealed. Remove bands and store Salsa in a dry, dark, cool place. Yield: 4 - 1 pint jars of Salsa.

From: http://www.salsagarden.com/Canning_Salsas.html
(there are a lot of recipes on this site too)

This is the second type of canned salsa I made this year. Sharing the recipe, as it was pretty good.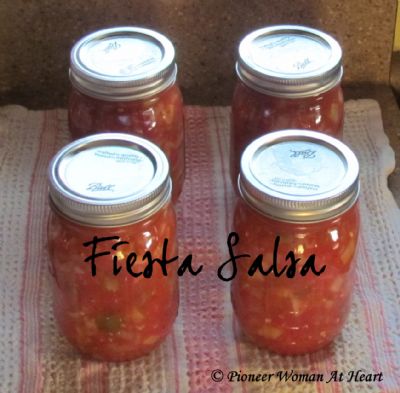 I used green pepper in place of the Anaheim, and a combo of hot peppers vs. just jalapeno. I used dried Marjoram vs. fresh also.

Farmgirl #800
http://pioneerwomanatheart.blogspot.com/

http://scrapreusedandrecycledartprojects.blogspot.com/

From my hands: http://pioneerpatchworkhomespun.blogspot.com/

From my Camera: http://www.flickr.com/photos/pioneerwomanatheart/

---
Edited by - FieldsofThyme on Aug 22 2012 07:38:15 AM