AussieChick
Sharpshooter





175 Posts



Cindy
Ravensbourne QLD
Australia
175 Posts

Posted - Dec 27 2021 : 10:46:25 PM

---
From Ancient Egypt to the modern day – for over 4000 years mankind has been brightening up clothing with natural and synthetic dyes. Throughout the ages adding individuality to clothing with colour has been used to denote gender, status and allegiance. It started with natural mineral and plant dyes, but with the discovery of synthetic dyes came a plethora of colour choice.
Archaeologists who have studied the earliest surviving coloured fabrics and important ancient manuscripts have concluded that there were three types of natural dyes: vegetable or plant dyes, mineral dyes and insect or animal dyes.
Mineral dyes came from minerals found on the earth's surface and in mines. Hematite for red, limonite for yellow and lazurite for blue were used to provide the necessary colours for textiles. By scratching the rocks' surface, a powder was created, which after solving with water or oil, was ready to use. Because they were inorganic in nature, and do not degrade over time like plant or animal dyes, they can survive for years if sheltered.
Another type of natural dyes came from animals – such as insects, lichens and shellfish. The most well-known insects that have been used during the ancient times are kermes and cochineal, which produced scarlet and crimson red accordingly.
Vegetable dyes are made from leaves, bark or roots from trees and plants. They were the most used in antiquity as they were the easiest to find and develop. The most common dyes were made of madder for red, saffron and safflower for yellow and indigo for blue and blueish purple. Items dyed in indigo were considered luxurious, as they were hard to find.
This all changed in the mid-19th century, with the invention of a synthetic dye. Dyed garments became more affordable, which coincided with the Industrial Revolution and the rise of the middle class. In 1856, William Henry Perkins was searching for a cure for malaria when he discovered the first synthetic dye. Mauve in colour, this aniline dye would be the beginning of a new era in the history of fabric dying. Throughout the mid to late 19th century scientists around the world began to develop colours for dying fabrics from chemicals. Nowadays, almost every garment has been dyed with synthetic dyes, with the exception of communities in North America, Asia, Africa and the Scottish Highlands. One of the most hazardous substances in the textile industry is chromium. Repeated exposure can lead to skin rashes, respiratory problem, kidney and liver damage, and on continuous exposure it may lead to lung cancer also.

Recommended safety information when using fabric dyes at home includes:-
• Wear an approved dust mask when handling powders so you don't inhale dye or chemical dust. Inhaling powders and dusts of any kind is not good for you. Inhaling is the main way these type of chemicals can get into your body. If you work with dyes and chemicals for a living, have allergies or chemical sensitivities, upgrade yourself to a good Deluxe Rubber Respirator.
• Wipe up areas where you have been using powdered dyes or chemicals with a damp old towel afterwards, to pick up any stray powder so it won't get into or on stuff. Wipe up liquid spills immediately, because after they dry up, they can become airborne.
• If there is any chance of getting the dyes or chemicals in your eyes, wear protective goggles.
• Wear rubber gloves so that you don't wreck your skin or absorb stuff through your skin (though most molecules are too large to actually absorb) or look like some weird tie-dyed creature.
• Provide adequate ventilation if fumes or powder dusts are present. This means cross ventilation, preferably with an exhaust fan. You can also put a box fan in one window, pointed to the outside to suck out room air, and open another window opposite for the fresh air to come in and replace it.
• Don't breathe fumes. Dust masks don't help with fumes. Deluxe Rubber Respirators will keep you from breathing dusts, mists and vapours with the proper filters.
• Don't use cooking or eating utensils to prepare dyes, chemicals and other craft products that are not intended for human consumption. Get a used microwave, if you are using one for your craft, to use as a dedicated microwave just for your craft.

COFFEE STAINING:- I chose to use a natural dye with far less safety considerations. Yes, I chose to dye using coffee.
Start by washing your fabric (for fabric that's already laundered, soak your material so it's very wet).
Brew a large pot of coffee or mix a pitcher of instant coffee. Stronger coffee or a darker roast will produce darker dye. The amount of time you leave your fabric in the coffee will also affect the colour, but the strength and roast really make a difference. Place the wet fabric or clothing in a large bowl. To achieve an even colouring, it helps to have enough room that the material isn't all bunched up. Pour the hot coffee over the fabric and stir it with a wooden spoon. You want the coffee dye to evenly soak through the fabric and stirring helps that happen. This also helps open up the fabric so you don't have areas that cling together. Gently wring out the fabric. Fill a bowl with hot water and a few tablespoons of vinegar (or more for a large piece of fabric or clothing). Place the dyed fabric in the water to rinse and soak for a few minutes. The vinegar helps set the dye. After about 10 minutes or so, remove the fabric and thoroughly rinse it under running water to remove any excess coffee dye. When the water runs clear it's all ready for the final step. To finish setting the colour in your fabric, let the fabric dry and iron it. Instead of air-drying, you can also toss it in a dryer on the hottest setting that is safe for your fabric.
I made 2 pillow cases. The colour was quite light, so next time I would use a darker roast.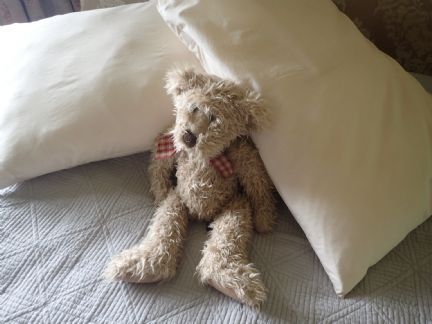 Farmgirl #6058
Farmgirl Sister of the Year 2021

"The happiest people don't have the best of everything, they just make the best of everything they have".