2013
2012
2011
2010
2009
2008
2006
2005
2004
2003
By Topic


December, 2010
Dear MaryJane ...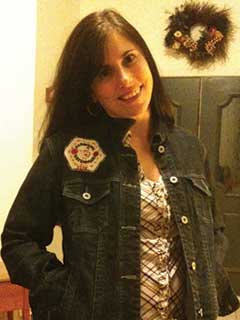 I just want to thank you again for all the positive, wonderful changes you have brought into my life. The summer is ending, and while my family, like most others in America right now, has been really stressed over the economy, I have had more energy, stayed completely healthy, and have had one of the best summers I can remember. Since spring, with your inspiration, I have had other wonderful successes in so many ways, too, such as with my new vegetable and herb gardens. I have become a whiz at baking bread, am knitting more and learning to crochet and embroider, have picked up sewing again, and have made other crafts beyond my own expectations! Our family has spent the most amazing quality time together as well.
Because of you, my family and I have been completely organic. I have a huge book collection, and there are a few I like to pull out from time to time. Eleven years ago (can you imagine, I was only 27 at the time), I bought a "change your life" book by a celebrity actress. In it, one of the steps she wrote about was "going organic." I might have taken a few things from that book, but I ran the other way from her "organic" diet—I remember at the time being overwhelmed by the picture of all the food in her pantry and fridge. It all seemed so hard and limiting. I cracked that book open again the other day and chuckled, because I now have MORE organic products in my kitchen than she has. What was the difference? Your approach, and how sensible and easy you make everything seem. We recently saw the movie Food Inc., and we are so grateful because we already got most of those messages, but through your gentle and positive way.
Also, I am surrounded by wonderful friends, some of whom I would never have met if not for the Farmgirl Sisterhood. Starting my own local Farmgirl Chapter has been a blessing, too. You already met Cathey and Ali when you were in NYC last, and now there are a total of nine of us in our Chapter. This year, we have gone to a canning class together, had potlucks, traded recipes, and are planning on learning to milk a cow and harvest grain together at a local farm. I also have found a very close and dear "sister" in my friend Amy, who is my pen pal in Minnesota, and I am also pen pals with Marlene in Iowa. About a month ago, I welcomed a new person on your chatroom who lives in NYC (Heidi), and she e-mailed me about my Chapter. Before long, we became friends, having found a lot in common, and we now e-mail each other every day. In addition to Heidi joining the Chapter, she and I are planning on getting together for lunch and knitting in a few weeks. I would have never met her if it weren't for you.
I have really enjoyed earning my Merit Badges, too, and I hope you know what a sense of accomplishment they provide. Your ideas and spirit are contagious!
Farmgirl hugs,
Nicole
Connecticut
I was going to the annual ice-cream social at our church, where there's always a contest for the best homemade ice cream. This year's grand prize was a handmade golden ice-cream scoop with a spalted maple handle. At the last minute, our ice-cream maker broke. But I remembered reading about a 15-minute recipe for "Lazy Days Ice Cream" in my June/July issue of MaryJanesFarm. I stirred it up and froze it for 1 hour. Guess who won first place?!
Thank you, MaryJane!
Linda
West Virginia