I know it's out of the ordinary, but it's true. I'm an organic farmer AND the editor of a women's magazine and author of books.
MaryJanesFarm magazine
Ever since I moved to my Idaho farm 20 years ago, I've played around with recipes for organic fast food. While feeding my family and farm crew and perfecting a solution for the dilemma of what-to-cook, I dreamed up my MaryJanesFarm magazine. I wanted a women's magazine where we can share solutions and show off our talents and really just a place where we can talk.

Here's what Deborah Needleman, former Editor of House & Garden magazine and current Editor-in-Chief of Domino magazine, had to say:
"MaryJanesFarm is charming and well done—hugely appealing. It is homey, and smart and interesting ... part Martha Stewart Living, part Oprah magazine, part Organic Style, part Nation, part Ladies Home Journal ... full of tips, ideas, and information."
So, come with me to a place where the food is wholesome, delicious and organic… where the crafts rekindle the joy of handwork… where simple pleasures enrich families and embrace friends.
Come to a place you'll call home…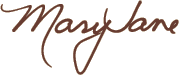 MaryJane Butters
Farmgirl is a condition of the heart.