Polenta, a dish made from coarsely ground boiled cornmeal, has long been a staple in Italian menus. Polenta can be served as a savory dish paired with herbs and cheese, and lends itself equally well to sweets like pears and blackberries. This recipe makes a wonderful hearty breakfast, perfect for those who love both sweet and savory dishes. Also delicious with crumbled bacon.
Look for organic polenta—remember, it's reported that 85% of non-organic corn grown in the U.S. is now genetically modified.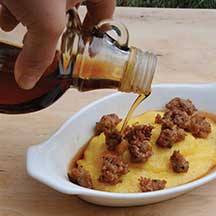 Sweet & Savory
Sausage Polenta
Prep Time: 5 minutes
Cook Time: 30 minutes
Makes: 4 servings
1

T olive oil

2

hot Italian sausages, casings removed

4

cups water

½

t salt

1

cup polenta

maple syrup, for drizzling
Heat a large sauté pan over medium-high heat. Add olive oil and sausages. Using a wooden spoon, break sausages into pieces and cook for 5 minutes, or until cooked thoroughly. Set aside.
In a medium pan, bring water and salt to a boil. Reduce heat to medium-high and slowly stir in polenta. Whisk constantly for 5 minutes. Reduce heat to simmer and cook for 15 minutes, stirring often. If polenta has thickened too much, add ¼ cup water and stir to thin.
Ladle polenta into a serving bowl or individual bowls and top with sausage, then drizzle with maple syrup.