This is a great craft project for children. You can also use your ornaments as gift tags, or even hang one from your car's rearview mirror as an air freshener.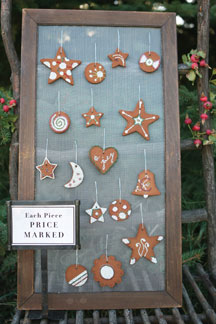 Applesauce Ornaments
1

cup applesauce

1

cup cinnamon

2

t ground cloves

craft glue

glitter

buttons and beads
In a medium bowl, combine applesauce, cinnamon, and cloves and mix well.
If you're using a dehydrator to dry your ornaments, scoop dough out onto a Teflon sheet (find at www.dryit.com); if air drying, use a cookie sheet. Press dough down until it's about ¼″ thick. (We found that hands work better than a rolling pin for this part.) Cut out shapes using cookie cutters, then remove excess dough. Carefully place Teflon sheet on a dehydrator tray and dry on low for 24 hours or air dry on cookie sheet for 2–3 days. Do not move the shapes for 8–10 hours once they are cut, then turn them carefully every 8–10 hours until completely dry.
Using a fine-tip paintbrush and craft glue, make decorative shapes or words on ornaments, then coat glued areas with glitter and gently shake off excess.