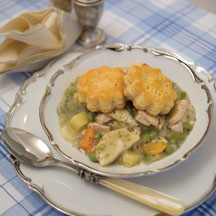 Chicken Pot Pie

with Cream Cheese Crusts
Prep Time: 30 minutes
Cook Time: 1 hour 10 minutes
Makes: 6–8 servings
Ingredients
| | | |
| --- | --- | --- |
| 1½ | | cups flour |
| ¼ | | t salt |
| ½ | | cup + 3 T butter, cut into chunks |
| 8 | | oz cream cheese, cut into chunks |
| 1 | | egg + 1 yolk |
| 1 | | t water |
| | | |
| --- | --- | --- |
| 3 | | T oil, divided |
| 2 | | lbs chicken breast, diced |
| 1 | | t salt |
| 1 | | t pepper |
| 1 | | medium onion, julienned |
| 1 | | stalk celery, diced |
| 1 | | large carrot, sliced |
| 1 | | large parsnip, diced |
| 1 | | cup yams, peeled and diced |
| 1 | | cup potatoes, peeled and diced |
| 1 | | T dried oregano |
| 2 | | T fresh parsley |
| 2 | | T fresh chives |
| 1 | | quart chicken broth, divided |
| 1 | | cup water |
| ½ | | cup flour |
| 2 | | cups peas |
Directions
Place flour, salt, butter, and cream cheese in a food processor and pulse just until dough begins to form a ball. Gather the dough into a ball and pat out to ½″ thickness on a lightly floured surface. Cut out crusts with biscuit cutter, place on cookie sheet, cover with plastic wrap, and chill in freezer for about 1 hour.
Preheat oven to 350°F.
In a small bowl, whisk together egg, yolk, water, and pinch of salt. Brush on tops of crusts.
Bake for 18–20 minutes, until tops are golden brown.
Heat 2 T oil in large skillet over medium-high heat. Add chicken, sprinkle with salt and pepper, and cook for 10 minutes, turning once. Pour off juices and reserve. Add 1 T oil, onion, celery, carrot, parsnip, yams, potatoes, and herbs and sauté for 2–3 minutes. Reduce heat to medium, cover, and cook for 10 minutes. Add 3 cups chicken broth, water, and reserved juices, cover, and cook for 10 minutes.
Place flour and 1 cup chicken broth in blender; blend on medium until flour has dissolved, then slowly add to skillet, stirring constantly, until thickened. Lower heat to simmer and cook an additional 10 minutes, adding peas for last 2 minutes.
Spoon into bowls and top with baked crusts.