Pattern by Gail Neumann of Genesee, Idaho.
Knit t-shirts into rugs
Approximately 26″ x 19″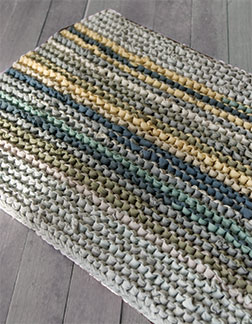 You'll Need
Size 15 (10.0mm) 29″ circular knitting needles
7 large t-shirts
OR

90 1″ strips cut from 56″-58″ wide 100 percent cotton knit fabric
Directions
If using t-shirts, cut shirts into 1″ bands widthwise through both layers with a rotary cutter. (Use hem, arms, and collar for stuffing your next pillow.) Cut circular bands apart at one end, making long, flat strips.
Connect the 1″ strips together to create "yarn" by cutting a ½″ lengthwise opening in the end of each strip (like a buttonhole) and pulling the next strip through that opening-like putting two rubber bands together.
Cast on 50 stitches. Knit as many rows as you like-the more you knit, the longer your rug. Cast off.