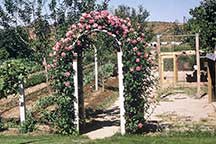 Start a Community Garden
If you live in an urban area, or in the suburbs, it's easy to forget where your food comes from. Grocery stores are kept stocked with produce from all over the world — no one ever worries that the produce won't be there and many never ponder the food's beginnings. In an ever-modernizing, ever-consuming world, Community Gardens might be just the thing to bring Americans back to the earth — and they are springing up everywhere. A visit to the American Community Garden Association website (www.communitygarden.org) lists established gardens in every state.
Community gardens provide a space for individuals and families to grow fresh, healthy food, achieve greater self-sufficiency, and enjoy open space whether one lives in an apartment in New York City or in Moscow, Idaho. Growing a garden of one's own is extremely gratifying, and it is a great way to spruce up a community. Vacant lots lose their weeds and become beautiful gardens where people can re-establish their bonds with nature, agriculture and with others in their community.
Beyond the pesticide/herbicide issue, one of the greatest benefits of growing your own food is simply the freshness of the food. The average distance a vegetable travels from the fields where it was grown to your local supermarket is 1,500 miles, losing flavor and nutrients every day in transit.
For a yearly fee, in addition to providing people with "room to grow," most community gardens will also supply educational pamphlets, workshops, compost, garden tools, water and expert advice. They bring together gardeners with a range of skills and techniques. First-time gardeners and experts grow their food side-by-side, sharing insight and tips.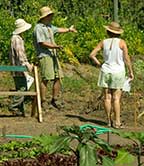 At Moscow Community Gardens, gardeners pay a small annual fee for a 20″ x 20″ or 10″ x 10″ plot and contribute two hours of labor per month toward the maintenance of common areas. Hoses, tools, straw mulch and seeds are available to gardeners at no cost.
Find a Community Garden in your area at www.communitygarden.org, try contacting your local Parks and Recreation or Chamber of Commerce, or get busy and get one started!