One of the menu staples at my farm is a BakeOver, a one-skillet savory
meal that can be made with virtually any combination of fresh vegetables
and a Budget Mix crust or one of my packaged, Farmhouse-sized, organic
bread mixes (Black Bean Corn Bread, Buttermilk Biscuits, Chili Batter Bread, Corn Bread, Focaccia Bread, Garlic Pesto Fry Bread, or Shepherd's Pan Bread). It's fast, it's easy, and best of all, it's homemade. Endlessly versatile, but with a gourmet flair, my one-skillet BakeOver idea has turned people into gourmet chefs, cooking from scratch, but always, only twenty minutes prep time in the kitchen. My idea works. It's novel. It's easy.
Read more about BakeOvers here.
Potato, Garlic & Cauliflower BakeOver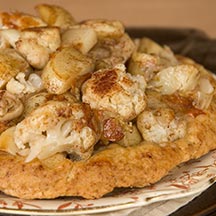 Prep Time: 20 minutes
Cook Time: 20 minutes
Serves: 4–6
2

cups white potatoes

1

cup cauliflower

1

cup Napa cabbage

1

small shallot

15

whole cloves garlic

1/2

teaspoon sea salt

1/4

teaspoon ground cinnamon

⅛

teaspoon ground nutmeg

1/2

cup Asiago cheese

1

Budget Mix BakeOver Crust
(see below)

OR

1

package Farmhouse
Buttermilk Biscuit Mix
Chop or slice the potatoes, cauliflower, cabbage, and shallots into bite-sized pieces (they're only going to be in the oven for 20 minutes).
Add garlic, salt, and spices.
Sauté them for 3–5 minutes in butter or oil in your skillet over medium heat.
Grate the asiago and add to the vegetables.
Place the dough on top of the vegetables, still in the skillet, like a pie crust.
Bake for 20 minutes at 425°F.
Then just flip the contents upside down onto a plate and enjoy!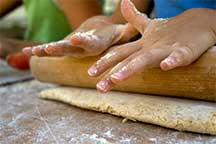 Budget Mix
BakeOver Crust
Place Budget Mix in a medium bowl.
Cut in butter until mixture resembles coarse crumbs.
Gradually add the water, stirring with a wooden spoon until a sticky dough forms.
Turn the dough out onto a lightly floured surface. Roll out a 9-inch crust.