Roasted veggies are the perfect accompaniment to fall and winter dishes. Roasting brings out the natural sweetness of the vegetables, and the dry oven heat makes them little bundles of golden crispy deliciousness. They're wonderful dressed only in salt and pepper, but for variety, toss in a combination of your favorite herbs.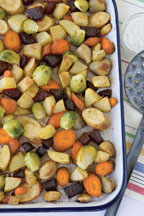 Oven-Roasted Veggies
Prep Time: 20 minutes
Cook Time: 35 minutes
Makes: 4 servings
Ingredients
8

medium Brussels sprouts, halved

¼

cup + 1 t olive oil

salt and pepper to taste

3

medium Yukon Gold potatoes,
cut into ½″ cubes

2

large carrots,
cut diagonally into ½″ slices

3

medium beets, peeled and
cut into ½″ cubes

1

large parsnip,
cut diagonally into ½″ slices

3

medium shallots,
peeled and separated into cloves

10

whole cloves garlic, peeled
Directions
Preheat oven to 425°F. Lightly oil a 13″ x 9″ baking dish.
In a small bowl, toss Brussels sprouts with 1 t olive oil and season with salt and pepper. Set aside.
Pat rest of vegetables dry and place in a large bowl. Add ¼ cup olive oil and toss to coat. Season with salt and pepper. Spread in a single layer in baking dish. Roast for 20 minutes.
Add Brussels sprouts to baking dish and roast for an additional 15 minutes.
Tip: You can roast one veggie or a combination of nearly any. Try potatoes tossed with butter and rosemary, carrots drizzled with a bit of honey, or whole heads of garlic topped with olive oil.